Grant: 'I want to show that this first year wasn't just beginner's luck'
Hard work, grit, spunk and a whole lot of talent. Those are just a few words that could be used for the freshman phenom, Jaylen Grant, who has gotten the country's attention with his record-breaking indoor track season.
From his ability to positively impact others to his blazing speed displayed across multiple sports, UW Oshkosh has an athlete ready to make a mark on its program.
Grant hails from Kenosha, Wisconsin, and he attended school at Indian Trail High School and Academy. Grant was a varsity athlete in cheerleading, football and track and field, but track and field was his primary focus.
"Jaylen is a hard worker. He has always been involved in football, track and cheerleading," said Brian Vanderhoef, coach for ITHSA's track team. "When he was in his respective seasons, generally as a track coach I was very mindful of that and allowed him to do that without much interference."
Grant joined the cheer team his senior year after being heavily involved throughout his junior year. During his first and only official season on the squad, he performed one man stunts and participated in tumbling.
For football, he became the starting running back and return specialist for the team by the time he was an upperclassman. By the end of his senior year, he was running a 4.4 second 40-yard dash while also taking home Special Teams Player of the Year and Offensive MVP honors.
Throughout his four-year tenure as a track athlete, he shattered the record for nearly every event he competed in. As it stands today, he holds high school records for the 55m dash (6.43s), indoor 200m dash (22.96s), 100m dash (10.78s) and 1600m relay (1:28). On top of all of this, he was a team captain, along with being a two-time state medalist.
In order to continue his performance at such a high level, Grant prioritizes the importance of taking care of his body by maintaining a balanced diet.
"Outside of team practices I definitely try to eat healthier because you get out what you put in," Grant said.
He also made a point out of putting the "student" in student-athlete first, as Grant was a very active participant in all of his classes. He was always one of the first students in his high school classes to raise his hand, and the eagerness to be a part of the class discussion was always present.
"Jaylen always participated. He was always someone who [invested] himself," said Jane Rider, one of Grant's high school communication class teachers. "When it came down to it and when you needed him to step up and perform, he always got the job done, and he always did it well."
Under Rider's instruction, Grant was an anchor and staff member of his high school's morning announcement show. Even after graduating from Indian Trail in 2019, Grant has continued to make a lasting impact on his former school and its instructors.
"He came back to tell his teachers how they helped him in college. He didn't have to do that," Rider said. "As a teacher, it's probably the best gift you can receive from your students."
Now a freshman studying Radio-TV-Film at UW Oshkosh, Grant has put together a remarkable indoor season that he and his coaching staff won't forget any time soon. The coaches at UWO have seen Grant put his talents and personality on full display, and he seems to be exactly the young prodigy that they saw in the recruiting process.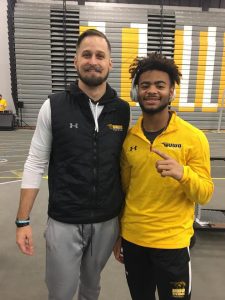 "He had a quiet drive to him and simply wanted a supportive environment," UWO Track and Field coach Justin Kinseth said. "His pursuit to become the best student athlete possible was very pure in nature. That's what stood out to me the most when it comes to athletes of his ability."
Already, Grant has sole possession of UWO's 60m dash record (6.81s), recognition as a Wisconsin Intercollegiate Athletic Conference "Kwik Trip Athlete of the Week," and a second place finish at the WIAC conference meet. The young phenom was also a national qualifier for the 60m dash before the season was cut short by the worldwide disruption of the COVID-19 pandemic.
Even with all of these accomplishments during what was an abbreviated freshman season, the young sprinter doesn't show any signs of satisfaction, only hunger.
"I want to show that this first year wasn't just beginner's luck and that I can hang with the best in this conference and division in general," Grant said.
With three years of eligibility remaining, the Division III superstar has already made himself at home in Oshkosh where the team chemistry has been nothing short of magical during the 2019-20 season.
"Jaylen has shown me that he is lovable and ALL IN when it comes to being a Titan," Kinseth said. "We are a very close knit group and he has shown all of us that he is part of the Titan family. Oh, and he's fast."