Major sports stadiums used as polling stations
Voting season has arrived, and this time it is under very unusual circumstances. Due to the rise of COVID-19 cases — more than 8.1 million cases nationwide as of Monday, according to the Centers for Disease Control and Prevention — many people are opting to cast their votes by sending in an absentee, or mail-in, ballot.
However, there are still in-person polling sites that are taking the appropriate social distancing precautions in an attempt to ensure all voters are safe. And professional sports stadiums are just some of those sites.
According to ESPN's Kelly Cohen, there are four MLB stadiums, 19 NBA arenas and 12 NFL stadiums (including the Green Bay Packers' Lambeau Field) using their properties as polling sites.
Some UW Oshkosh students have mixed feelings regarding professional teams, including the one roughly 50 minutes North of Oshkosh in Green Bay, that are using their facilities as polling sites during a pandemic.
"I guess I'm a mix of concerned and impressed," UWO sophomore Bailey Laird said. "I'm impressed with the idea and the actual good that could come from it, but in a pandemic, I don't think it's great."
According to Axios' Fadel Allassan, NFL commissioner Roger Goodell led this effort with the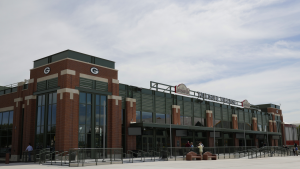 suggestion that teams try to use their facilities as polling areas as a way to make voting more accessible in various communities.
In Green Bay, the Johnsonville Tailgate Village, a 13,432 square-foot building on-site, will be utilized as a polling location on Nov. 3 for Green Bay residents.
Other UWO students are all for the ideas put forth by these professional sports organizations as long as the correct precautions are taken into consideration.
"As long as the sites are safe, it seems like a good idea," UWO sophomore Joe Hopefl said.
In terms of how the state polling sites being located in or near stadiums will impact the voting numbers, students at UWO believe that the voter turnout, which was a mere 60.1% in 2016 according to fairvote.org, should increase with the efforts.
"I may not agree with [what these sports teams are doing], but I do believe that it will positively impact the amount of people that will go out and vote," UWO sophomore Connor Bukoski said.
Judging by how many people are faithful to their favorite sports organization, there could definitely be an uptick in voter turnout based on brand identity alone.
With these sports facilities being used as polling sites, widespread concern regarding manipulation that could occur with mail-in ballots may be extinguished considering there are now more in-person options with larger capacities that can allow people to be spaced out to a greater extent.
Laird acknowledged that many people who are afraid of their mail-in ballots being tampered with may benefit from these sports stadiums being used as other locations for in person voting. He stated that as a result of this, more people may end up voting.
Others even suggest that the priorities of Americans may serve as an explanation as to why voter participation could rise due to these organizations taking such a step this election year.
"It'll help because people care more about sports/entertainment than their own rights," Hopefl said.
With COVID-19 and many accounts of social injustice occurring throughout the country in what has been a year of chaos for many, some students see this year's election as one of the more important ones.
"It is always important to vote, but even [more] now. With how the last four years have been handled, we need a new approach," Laird said.
Some students also view this election year as one that is on the same level of importance in comparison to past ones.
"I'm in the middle [in terms of the] importance of voting, as nothing really changes all too much [that is] life-threatening in each election," Bukoski said.
Whether someone votes using an absentee ballot, goes to a usual polling site or tries their hand at a modified sports facility polling site, voter education is always an essential component of the election process.
"Educate yourself about the candidates and what their values are," Hopefl said.
The online voter registration deadline for Wisconsin was Oct. 14, but the in-person voter registration deadline is not until Oct. 30. The in-person registration is consistent with both regular polling sites and the sport-stadium version. In addition, people in Wisconsin can register and vote at their polling station on Election Day.
With voter turnouts failing to eclipse 61% in 2012 and 2016, according to fairvote.org, the fact that professional sports teams are using their facilities as polling sites just adds another variable to what will be a very different 2020 election day on Nov. 3.