Prepping for a season of unknowns
As the UW Oshkosh track and field team prepares for indoor and outdoor seasons that may be filled with various unknowns, the team reflects on a year that was abruptly cut short by the rapid spread of COVID-19.
The team had its final indoor meet at the Wartburg College Final Qualifier on March 7 before some
of its top runners traveled to Salem, North Carolina for a Division III National Championship that would never take place.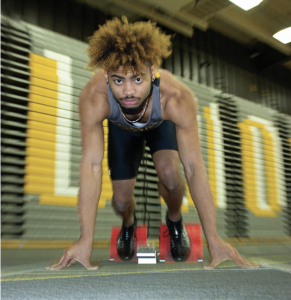 The event had been scheduled for March 14, and one of the school's new record-holders, then freshman Jaylen Grant, was among its qualifiers who had to immediately go home due to the dangers of the pandemic.
"Honestly, it was heartbreaking," sophomore Grant said. "For us to work so hard to get there and for it to be canceled the night before was very hard on our whole team."
Upon coming back to school and attending partially in-person classes this fall, the team has resumed practice together. With the resumption of school operations at UWO, some runners admire the fact that they can use the campus
facilities to improve their performance.
"Last year, because with COVID, I didn't have very many places to lift and even run at some point," UWO sophomore sprinter Kyra Huber said.
In terms of the group practices, the frequency of daily gatherings is consistent with what the team did last year. This provided the runners with at least somewhat of a return to normalcy, and they're glad to be together doing what they love once again.
"We still practice every day per usual. It's nice to have something semi-normal in my schedule again," Grant said. "It's great to be in an atmosphere where we all are working toward the same goals."
Although it is a morale booster for the runners to see each other again while working toward a common objective, the
uncertainty of the season ahead leaves each teammate with a puzzled outlook as they refine their skills and cut down their times.
The Wisconsin Intercollegiate Athletic Conference has suspended all athletics from competition through Dec. 31, and this leaves a lot up in the air in terms of what kind of a season, if any, the UWO track and field team will have.
"It is hard because we're all putting a bunch of work into this season and trying to get back into shape without knowing really what's gonna happen," Huber said. "It's really a toss up if we're gonna have a season, so the possibility of not having it makes it harder."
In terms of how those very practices are being held during a pandemic, the team is taking any and every possible precaution during practice to ensure that each runner is safe.
"COVID restrictions being enforced include social distancing and wearing masks of course," Grant said. "We also have split up our team, and we now practice in subgroups at different times to limit the amount of people together at a time."
On top of this, the athletes must be checked on a daily basis to ensure that they are safe to practice among others while still maintaining a social distance.
"We get our temperatures taken when we walk in, and we have set zones of where we go to put our stuff and stand when our coach is explaining how practice will work that day." Huber said.
In terms of goals for the upcoming season, the UWO runners are trying to get back to where they were when their indoor track season was cut short. Individually, each runner has their own specific goals that they are striving for as they begin to practice for a 2020-2021 season that is full of question marks.
" [I] definitely [need to] get better at my block start with not hesitating as long as I do," Huber said.
As a whole, the team also has goals set before it as it goes into the track season.
"A team goal would definitely [be] getting more people into nationals," Huber said. "We had a good amount go this past year, but we definitely have grown as a team, so that's definitely exciting and an end goal."
Some athletes, including Grant, who was heading to nationals and posted a school record time of 6.81 seconds in the 60-meter dash, see their past season's cancellation as a way to be extra motivated for their next shot at competition.
"Considering everything that ended our previous season prematurely, I'm motivated more than ever to get back where I was last season," Grant said. "My goals are the same, but I definitely have a different fire in me to accomplish those and eventually exceed them."