Intramural sports continue with precautions
When the coronavirus rapidly spread across the country until it was classified as a pandemic, all of the spring sports athletes simultaneously had to face the bleak reality that their seasons were done until further notice.
Fall athletes in the Wisconsin Intercollegiate Athletic Conference learned, on July 27, that their seasons would either be postponed or canceled entirely.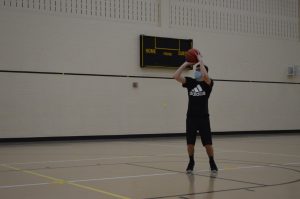 However, one group of people who can be easily overlooked are the intramural athletes who stay active without facing other schools in Division III competitions.
For intramural coordinators, March 2020 was a chaotic month. Not only did coordinators have to think about rescheduling games and deciding how students would be able to safely gather again to try to finish their seasons, but they also had to face the fact that many students would likely request a refund.
"I was first trying to figure out how we could finish our Spring leagues if we were able to come back," Rec Plex Coordinator Patrick Marcoe said. "Could we reschedule games? Where would they be played? How long would we be away from campus? Once it became clear that we would not be returning for the rest of spring, it was figuring out how we would award champ T-shirts, provide any refunds if applicable and support our intramural staff."
Once it became apparent that the coronavirus would not fade before the beginning of UW Oshkosh's fall semester, it became a matter of how fall intramurals would be adjusted in a precautious fashion to prevent the pandemic from worsening.
"During the summer, it was trying to figure out if we could even have intramurals in the fall, how we could support our student staff and what we could do to keep the campus engaged and active," Marcoe said.
Despite the fact that the virus caught the entire Rec Plex staff off guard, there is a general consensus that they handled the transition extremely well.
"​It was a big adjustment transitioning to safely playing intramurals due to COVID," Intramural Program Assistant Natalie Pawlak said. "Given the circumstances, I think it was a fairly smooth transition; our staff has been absolutely wonderful and understanding with the constantly changing environment."
In order to maintain a healthy and courteous environment, the Rec Plex staff has made it a priority to enforce the on-campus guidelines of having a mask on, maintaining one's social distance and staying six feet apart whenever possible.
This persistence has helped the transition, and it is one of the reasons that intramural sports are even being played at the moment.
"Some of the precautions we are taking are that masks are required at all times by staff and participants, even outdoors, there are no more than 10 people allowed in an area at a time," Pawlak said. This has meant no spectators, [and] we disinfect equipment after games and as much as possible during breaks in a game."
Another one of the adjustments made by the Rec Plex staff is the overall reduction in intramural offerings. This ensures a smaller amount of gatherings, and the hope is that this will decrease the overall spread of the virus.
"[Intramural] offerings have been reduced compared to pre-covid. The types of activities we can run limits what we traditionally do," Marcoe said. "Facility space was also in question as Albee Gym was earmarked for the COVID testing site. Traditionally, we [used] to play many intramurals there."
Despite there being a decreased quantity of events, there is still a huge variety that students can participate in. Even the pioneering stages of preparation for this fall contained various activities for everyone to do.
"After getting approval for our intramural plan, we offered a few leagues, tournaments and play-and-report events," Marcoe said. "Those include a bag toss tournament, golf simulator league, goalie wars [with] soccer, [a] punt, pass and kick contest, a twos volleyball league and others."
This variety of activities have been successful enough to draw a favorable turnout in comparison to the results that were happening before the coronavirus outbreak.
"​Although we are limited in the number of people who can participate in events offered, I think a lot of the sports that we are offering have seen high signups," Pawlak said.
Even though there have been high turnouts across the board, there has been a very definitive favorite sport that many students have still been participating in through the refined intramural program.
"​I think our volleyball league has been one of the most successful sports we have run this semester," Pawlak said. "It is one of the only sports that is being offered that is not a singles league, so I think that is where the appeal is coming from. Although it is only two people, I think it helps to get people active and gives them a chance to leave their house or dorm."
With intramurals rolling with the many punches that this growing pandemic has delivered, the staff is readily prepared for any more adjustments that must be made in order to keep its participants and staff workers safe.
"Like the rest of campus, our protocols are ever-evolving," Marcoe said.