Track makes huge strides in unscored event
The UW Oshkosh track and field team competed against UW-Whitewater at Whitewater in an unscored event as the national teams inch closer to outdoor season.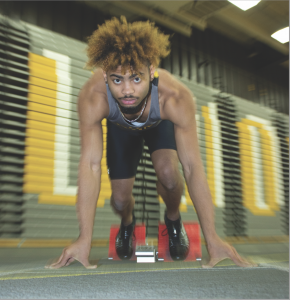 This was UWO's third track event of the year, and, at this point, the men are ranked second nationally while the women are ranked seventh nationally.
During UWO's second event of the year, and their first against Whitewater on Feb. 13, they had three runners crack the top 10 national times.
Sophomore sprinter Jaylen Grant recorded the best 60m dash time of any D-III athlete in the nation at 6.88 seconds after cracking UWO's school record with a 6.81 second time last year.
Junior sprinter Denzel Thomas ran the fourth best 60m dash time in the nation, and second best in the event, with a time of 6.90 seconds.
Junior distance runner Andrew George clocked the nation's 10th best 3000m time of 8:36:02.
Consistency and improvement have both been key components to UWO's success and national recognition thus far.
"I feel like my performance this season has been pretty good," Grant said. "My times have been consistent, and that was one of my goals coming into this season."
Along with those components, UWO's persistence in the offseason that if they worked hard enough they'd shine when they got the chance is also paying dividends to a successful start to the indoor track season.
Among the UWO individual women winners from Feb. 19 are Mikayla Jackson at 8.02 seconds (60m), Alaina Wagner at 26.87 seconds (200m), Zanzie Demcoe at 2:15.58 (800m), Lauren Urban at 19:35.44 (5000m), Riley Kindt at 9.06 seco
ds (60m hurdles), Kindt at 1.63m (high jump), Kindt at 11.05m (triple jump), Sydney Thompson at 13.59m (shot put) and Thompson at 16.90m (weight throw).
The UWO individual men winners from Feb. 19 are Jaylen Grant at 6.88 seconds (60m), Rashaad Henderson at 22.54 seconds (200m), Amitai Wheat at 50.43 seconds (400m), Reid Marquard at 2:00:57 (800m), Andrew Muskevitch at 15:84.84 (5000m), Eli Tranel at 4.70m (pole vault), Jamyle Brantley at 7.11 (long jump) and Jonathan Wilburn at 14.91m (triple jump).
The men's and women's team, despite the event being a non-scoring one, dominated the dual meet and have made a theme of winning a ton of events in all three meets thus far.
"Both the Women's and Men's side have performed amazingly well," Grant said. "We have been training since last fall for the opportunity to finally compete and it definitely shows up in our results."
The ability for some athletes to take on versatile roles by running in multiple events has also pushed them in ways that they have not been pushed before.
"I've had opportunities to run other events this indoor season," Grant said. "This means a lot to me because I'm the type of athlete that wants to contribute to the team as much as possible. Doing other events allows me to do so."
Grant, who usually runs in the 60m dash, ran in the 200m and was the anchor for UWO's 4x400m relay team in the Feb. 19 meet against UWW.
Although it doesn't look like there will be a national competition for the indoor track season, the likelihood seems greater for a national championship for outdoor season.
If that does happen, UWO feels confident that they'll be ready to take on high competition.
"Assuming that we have conference and/or outdoor Nationals meets, I believe that my entire team can do well at both levels," Grant said. "We compete every weekend in one of [the toughest] conferences in the nation."
The team gives partial credit for its success thus far to the head coach, Justin Kinseth, for pushing everyone even when there was uncertainty about whether there would be a 2021 season or not.
"I want to thank Coach Kinseth for believing in our team and lifting us up when we were down. He instilled this mindset in all of us to train in the dark until we can finally compete," Grant said. "We are a better team because of him and our other coaches."