Women's basketball atop WIAC East
The UW Oshkosh women's basketball team swept UW-Stevens Point in a pair of blowouts on Feb. 17 and 19 by scores of 75- 45 and 67-40. UWO's 30- and 27-point wins were the team's largest margin wins of the year, and the only time the team trailed was an 0-2 deficit in the first couple of minutes of the second game.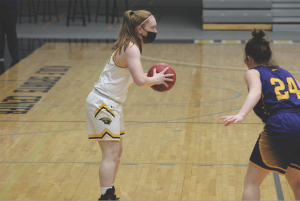 After the second bout against UWSP, UWO sits atop the Wisconsin Intercollegiate Athletic Conference (WIAC) East Division with a 5-1 record and two games left to play in the abbreviated regular season.
"These games were always essentially non-conference games as our seeding was determined by just division games," head coach Brad Fischer said. "Our players didn't get the normal progression of a year where they, especially the newcomers, get to go out there and get their feet wet in games that don't have as high of stakes."
Leah Porath led UWO in scoring in the first game at home against UWSP with 22 points on an 8-for-14 shooting effort from the field and a 1-for-3 shooting effort from behind the 3-point line. Other notable scoring efforts came from junior forward Abby Kaiser, sophomore guard Jenna Jorgensen and freshman forward Kayce Vaile, who all had 10 points each.
UWO's defense allowed UWSP to shoot just 15-for-45 from the field (33%), while scoring only 45 points.There have been a couple of recent standouts who have stepped up their defensive game.
"I think Julia Silloway and Abby Kaiser have set the tone for us with their ability to help pressure the ball and affect the other team's better perimeter players," Fischer said. "I also think others who haven't been known for their defense, like Jenna Jorgensen and Karsyn Rueth, have taken a little bit more pride on that end of the floor."
UWSP didn't help themselves either, as they only shot 11-for-22 (50%) from the free-throw line; this was significantly less than UWO, who shot 19-for-30 (63%) from the line. The second game took place in Stevens Point, but UWO showed no signs of homesickness as they pushed the game out of reach early by exploding on a 21-1 run for the remainder of the first quarter after being down 0-2 just four minutes into the game.
"We actually didn't feel like we got off to a good start. I think it was 5-2 at the media time out. I felt like we did a decent job ratcheting up the pressure early, but honestly our offense was not very good," Fischer said. "It was really those last four minutes of the quarter that saved us from a pretty ugly start."
UWO's defensive effort was shown through the 13 steals that the team accumulated throughout the game, and Porath led all players with three steals of her own. Even with significant leads of upwards of 20 points, UWO never let up on defense and was able to keep UWSP uncomfortable and making poor decisions with the basketball.
"That's been a different element for us this year that we've tried to play around with," Fischer said. "I think with Stevens Point the pressure had them always feeling a bit uncomfortable, even in our moments of breakdowns where things opened up."
Fischer added that this aggressive defensive style is different from the more conservative approach that UWO has been known for in the last couple of years, but thus far, it seems to be working. UWO's last pair of matchups will be against arguably their toughest competition yet in UW Eau Claire, who is currently 6-0 and in the lead of the WIAC West Division.
The Feb. 24 results, which were not available by our press deadline, are posted on theUWO athletics page. The Feb. 26 game will tip off at 7 p.m. in Eau Claire, and it can be viewed through the 'video' option in the game's tab on the UWO athletics page.
"It's a great challenge getting to play the other division champion to kind of see where things are at," Fischer said. "At the same time, we have some other things we'd like to work on and see, and I think we have to continue to look at what the uniqueness of this year presents."