Athletes play to empty stadium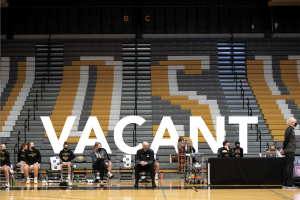 Oshkosh sports are back, but they've had an entirely different look and sound without spectators at the events.
As a commentator myself, I speak from experience that calling a basketball game without any fans is one of the most peculiar atmospheres that I have ever been a part of.
Every little sound can be heard by everyone at the sporting event.
When the Wisconsin Intercollegiate Athletic Conference (WIAC) made the announcement on Dec. 11 that sports, without spectators, would return for the winter, a variety of reactions came from those in the Titan TV and WRST sports departments.
"I was kind of expecting there to be limited or no fans at games," Radio-TV-Film senior sports announcer Johnathon Samp said. "When I saw that there was going to be a season for winter sports I was shocked just because the coronavirus is still so prevalent."
Leadership in the Titan TV and WRST departments were relieved to have sporting events back, but they acknowledged that there'd be some adjustments for the spectator-less atmosphere.
"My initial response was kind of mixed. I was excited we had basketball," Radio-TV-Film senior sports director Billy Piotrowski said. "[I was] obviously excited for sports, but also thought how is that going to be different for commentary."
In terms of the experience from a commentator's perspective, a lot more caution comes along with the word and volume choices made on a play-by-play basis and in certain situations.
Unlike in a normal sporting environment where the sound of the crowd would drown out the words of a play-by-play or color commentator, everyone at the game can hear the words that people can usually only hear online.
Players and team personnel are more likely to hear what a commentator is saying now more than ever.
"All of the players and coaches can hear what you are saying, especially in a court side setting like in basketball," Samp said. "Typically if there is a player that isn't shooting well but continues to shoot I may say something like, 'this kid couldn't heat up if he had a blanket around him'. Now that everyone can hear what you say I am a little more cautious."
This isn't to say that the arena is completely quiet, but there are certain times in the Kolf Sports Center where the commentators' voices are in danger of being the loudest noises there.
"It's really weird sometimes, especially with free throws and timeouts," Piotrowski said. "It's quiet enough sometimes you can hear a pin drop, so on commentary you're used to talking loud because you're trying to talk over the fans and general arena commotion, [but] then it gets to free throws and it's dead quiet."
The commentators aren't alone in having their voices amplified, though, as the voices of players and personnel can be heard by just about everyone. Player-referee arguments also ring throughout the arena instead of being drowned out by crowd commotion.
"Some things that I hear during a broadcast is what the coach is saying or a player is saying especially if they are calling a play," Samp said. "I [also] hear cursing from players and I can hear when they try to argue their point when a foul is called which can be interesting."
While the 30-something cardboard cutouts at each basketball game seem to provide some comic relief, the people, typically family members, of whom those cardboard cutouts represent must rely on broadcasters to hear a live reaction of how their family member's team is doing against its opponent.
"Both radio and TV [are] very important because in our case the parents of these athletes are not able to attend events that they normally would, and we are still able to broadcast their son or daughter doing what they love," Samp said.
This also goes without saying that basketball is the only winter sport where families get this luxury. Families of those in track and field, swim and dive, wrestling and gymnastics have to resort to watching the score updates or final results on the UWO athletic page.
While broadcast does play a crucial role in updating loved ones on how their family member is doing, this does not dismiss the absence of home field/court advantage that has loomed throughout WIAC games all year.
"At the end of the season when a lot is on the line, Kolf is like being in the Super Bowl," Piotrowski said. "Everyone is screaming. It's such a great atmosphere, and that's something that you can sometimes miss or not convey as well because you don't have all of the energy around you."
Not only are parents missing this chaotic crowd element, but broadcasters are looking forward to calling a game with ample amounts of spectator noise as well.
"I miss the noise and the emotion of the game," Samp said. "I miss how people other than the players and coaches can impact a game by making noise."
In a web update published on Feb. 17, the WIAC stated that spring sports competition would proceed and spectator presence would be determined at a later date.