Titans move on, Porath sets school record
The UW Oshkosh women's basketball team defeated UW-River Falls in the first round of the Wisconsin Intercollegiate Athletic Conference (WIAC) tournament by a score of 79-59 at the Kolf Sports Center on March 1.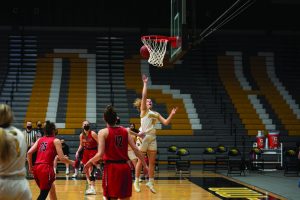 Senior guard Leah Porath had an explosive performance and led the way with a WIAC-high and UWO school record of 30 points on 12-for-18 shooting, 14 rebounds (fifth best WIAC performance) and six assists (second best WIAC performance).
"She was sensational. Sometimes you get the stat sheet, and it's quiet. Tonight it wasn't that quiet," head coach Brad Fischer said. "To get six assists and no turnovers is great for anybody, but to put that with 30 [points] and 14 [rebounds] is one of the better performances that we've seen since I've been at Oshkosh."
UWO's defense also dictated the outcome of the game, only allowing UWRF to shoot 21-for-60 from the field (35%) and 8-for-26 from behind the three point line (31%).
UWO, who was 6-2 in a regular season that featured them splitting their last two games against UW-Eau Claire, has had their fair share of troubles with performance in the third quarter, but that was not a problem in this game. UWO outscored UWRF 28-20 in the third quarter before preserving the lead for the duration of the fourth quarter.
"Throughout this season we have typically been ahead at halftime, but our third quarters have been a little rough," senior guard Nikki Arneson said. "If we are able to come out strong after halftime, our team will be very tough to beat."
Arneson left the second of UWO's two games against Eau Claire on Feb. 26 with an injury, but she came in off the bench in the team's game against UWRF with 11 points, the second most of any bench player on the team behind sophomore guard Jenna Jorgensen, who had 14 points.
The bench as a whole had 33 points, accounting for roughly 40% of the team's total scoring effort.
"[Jenna] has just done such a good job of picking the right shots. Nikki coming off of the bench after having to miss the second half against Eau Claire was a big boost for us obviously," Fischer said. "To be able to go up and down the roster a little bit and get shots from different places makes us a little bit tougher to guard going forward."
UWO could not get it going from behind the 3-point line, shooting only 1-for-13 (7.7%) to UWRF's 8-for-26 (31%), but the team adapted and took high percentage shots while out-rebounding UWRF 45-34 and beating them in the assists category 18-8 as well.
Sophomore guard/forward Macy Nilsen led UWRF in scoring with 16 points on 6-for-13 shooting with eight rebounds, and freshman guard/forward Bethany Vasecka led the team in rebounds with nine off of the bench.
At this point in the season, the coaches and players are really pleased with how they've performed given the odd circumstances that have come with adapting to a pandemic-shortened season.
"Our team has performed very well this year. Every day and every game our goal is just to take a step forward and get better," Arneson said. I'm proud of our team, especially in an odd year like we have had. Everyone has stuck with it and trusted the process."
On Wednesday, UWO played UW-La Crosse, who went 5-4 in the regular season, in the WIAC semifinals. Results can be seen on the UWO Athletics page. If UWO won that matchup, they will play either UW-Whitewater or UWEC in the WIAC championship on Feb. 5 with a tip-off time that is TBD.