Wrestling gets third at WIAC final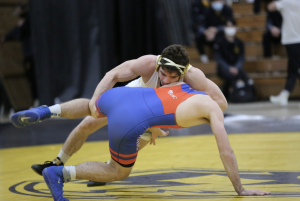 The UW Oshkosh wrestling team finished in third place with 115.5 points at the Wisconsin Intercollegiate Athletic Conference (WIAC) meet on Feb. 28.
UW-La Crosse came in first with 168 points, and UW-Eau Claire followed with 141.5 points. Behind UWO was UW-Stevens Point with 101 points and UW-Platteville with 77.5 points.
Sophomore Beau Yineman was the highlight of UWO's performance, as he won the 197-pound conference bracket against UWL's Kalyn Jahn by major decision with a score of 16-3.
The coaching staff was extremely pleased with Yineman's performance, as they believe he took a big step in the right direction this season.
"Beau has competed at a high intensity all year in and out of competition. He has taken his performance to another level this year," head coach Efrain Ayala said.
Yineman said he felt that the competition in his weight division was strong, but that if he followed through on what he had practiced, he'd be able to come out on top.
"I think the competition in my weight class was good," Yineman said. "I had a few guys that were ranked or honorable mention, but I knew I wrestled them well before the tournament, so I just had to execute."
The team believes that they performed well considering the circumstances and competition restrictions presented by the pandemic. Including the WIAC tournament, UWO only had five meets all year.
"As a whole we performed very well given the lack of competitions we had this year. There is room for improvement as we start thinking of next year," Ayala said.
This gave the team a minimal amount of time to go up against other schools before the conference tournament rolled around. There are also many underclassmen (Luc Valdez, Brandon Lenczner and Guyon Cyprian to name a few) competing in scoring matches.
Those who did compete took this into consideration when evaluating their performance, and said they felt a general sense of pride in representing the school at the conference tournament.
"The team did well considering that most of us are still pretty young," Cyprian said. "It was an honor to represent UWO in conference [competition]."
Yineman was proud to represent his team, and he was also glad to see his hard work pay off, considering that there were times where it looked like there wouldn't even be a season this year.
Yineman was also pleased to see an improvement from finishing in second place in the conference for his weight division last year.
"It feels good to come back from my freshmen year taking second to first," Yineman said. "I also feel grateful for the opportunity to wrestle with how everything has been with COVID not knowing if we were going to have a chance to wrestle a season or not."
Looking into next year, the majority of the team will be returning to competition. The coaching staff believes that there's a lot to be optimistic about going into the next season.
"We are returning a large amount of the team next year so I am very excited. We will be very strong," Ayala said.
The wrestlers feel that despite making some strides in this shortened season, they have some work to get done before getting back on the mat against other teams next year.
"I improved on being confident in my attacks this year," Cyprian said. "I will be working on my foot work in order to get my attack to be quicker."
The team believes that as the younger wrestlers grow into their role during another year of preparation, they'll be in a position to place even higher in the conference.
"I believe we will place higher in the conference with some hard work in the off-season," Yineman said. "I'm excited to see our improvement, [and I] can't wait for next year."