UWO baseball bounces back big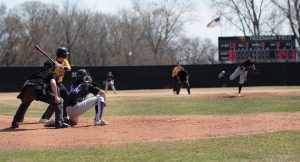 After dropping four straight games, the UW Oshkosh baseball team found their footing and went 4-2 in six games played against UW-Eau Claire and UW-Whitewater between March 21 and April 6.
UWO has been a very streaky baseball team to say the least, as they started their season out with two wins, followed those performances up with four straight losses and then won four of their next six games.
In the four-game series against UWEC, UWO outscored the Blugolds by a combined score of 53-20 in some impressive offensive performances.
"I think we had a chip on our shoulder from the previous games going into the first game. We wanted to prove that we are one of the top teams in the WIAC and get much needed wins in conference," junior infielder Hunter Staniske said.
Freshman pitcher and infielder Matthew Scherrman led UWO's offensive effort, going 6-for-18 from behind the plate with two home runs and 13 runs batted in (RBI) over the four-game stretch, including a 2 home-run, 8 RBI performance in the Titans' 18-5 walloping of the Blugolds on April 2.
Scherrman himself sees the team's struggles early in the season as part of the trials and tribulations that all teams encounter in the long spring season. The team is focusing on its season one game at a time.
"We know there are a ton of ups and downs in a season," he said. "Nobody panicked, we just had to forget about it and have some good practices before we played Eau Claire."
Staniske also put together an impressive stretch behind the plate, batting 9-for-18 with 6 runs and 9 RBI in the series against UWEC.
The series as a whole uplifted the team's morale, and it has everyone feeling encouraged as UWO prepares for 16 straight Wisconsin Intercollegiate Athletic Conference (WIAC) games before the conference tournament towards the end of the year.
"I think everyone is happy after sweeping Eau Claire last week. This is a tough conference and sweeping someone is always fun," Scherrman said. "A lot of people played well, trying to keep that momentum into our games against Whitewater this week is our biggest focus."