Coppernoll's big 200th win!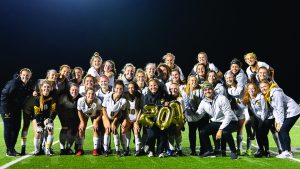 The UW Oshkosh women's soccer team defeated UW-Stevens Point 2-1 on Oct. 6. The win was the 200th for UWO head coach Erin Coppernoll, who played for UWSP from 1994-96. Coppernoll started coaching for the Titans in 2004 and is already the all-time winningest coach in UWO women's soccer history. After the game, Coppernoll was asked about her coaching career and about the UWO women's soccer team.
What got you into coaching?
I was a three-sport athlete in high school and loved playing sports. I wanted to continue to be around sports and coaching was a route to do so, I ended up getting a degree in Physical Education and taught for a few years and coached at the high school level but then pursued collegiate coaching. Every day, I don't feel like I have a "job."
What made you choose to coach at UW Oshkosh?
I chose UW Oshkosh because I played in the WIAC (at Stevens Point) and loved the conference. This job was an opportunity for me to move back to my hometown and coach in the conference I played in. I also liked this position here at UWO because of Toby Bares, the men's head coach at the time. He is a legend in the soccer coaching world and to get an opportunity to work with him was incredible.
What is your reaction to winning your 200th game here at UWO?
I was happy for the team to win another big conference game. For me, it's always about the current team and our mission for the season.This group of ladies has been very focused and working hard each day. So, another win for them is great. In reflection of 200 wins for myself, I have been very blessed with great players and assistant coaches to help me get there. It isn't one person that does all the "heavy lifting" to get to that 200. I have had lots of people to help me along this journey. I look forward to the next 100 with this team and future ones.
What is a strength that your team can rely on?
This year the team's chemistry is strong. They are a very close group and work hard for each other on and off the pitch. I think this reflects on game day. They have been super coachable each day and are working on sharpening our tools. I think their hunger to get better will serve them well long term.