What a game! Titans beat Eau Claire 54-31
After losing to UW-Whitewater and UW-La Crosse, the UW Oshkosh football team responded with a 54-31 win against UW-Eau Claire on Homecoming.
The Titans opened the scoring on their first possession with a 70-yard bomb from quarterback Kobe Berghammer to wide receiver Tony Steger on the first play of the drive. Eau Claire fumbled the ensuing kickoff, which gave UWO the opportunity to add to their lead.
This time it took only four plays to score another touchdown. Running back Mitch Gerhartz rushed to the one-yard line where he fumbled, but the ball was recovered in the endzone by tight end Steven Makinen. The extra-point by kicker Jaydon Haag was blocked, but the Titans led 13-0.
On their next drive, Berghammer found Steger again for a 43-yard touchdown. The Blugolds would get stopped once again, and Berghammer threw another touchdown, this time to Trae Tetzlaff for a 65-yard score. This put UWO up 27-0 with 8:11 to go in the first quarter.
Running back Peter MacCudden set up yet another Berghammer touchdown pass, after a 41-yard rush to the Blugold 1-yard line. Berghammer's fourth touchdown pass of the game went to Makinen on a 9-yard pass to put the Titans up 34-0.
UWEC would finally get on the board with a Harry Roubidoux rushing touchdown early in the second quarter. With 5:46 to go in the first half, UWEC running back Austin Belot fumbled at his own 17-yard line, and UWO defensive lineman Jhe'veon St. Julien was there to return it into the endzone for a touchdown. This extended the Titan lead to 41-7.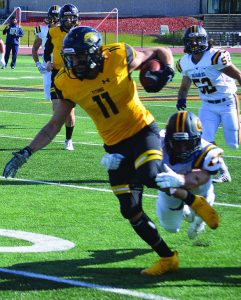 Berghammer would add a fifth passing touchdown, a 17-yard pass to wide receiver Stephan Flores, to close out the first half scoring. UWO went into the locker room at halftime with a 48-7 lead.
After the game wide receiver and kick returner Jalen Grant, who was crowned homecoming royalty at halftime, said, "It [the first half] was a combination of play calling from our coaches and us being in positions to make big plays. When our players and coaches are on the same page, I really feel that we're unstoppable."
Early in the third quarter, the Blugolds added three points from a 30-yard field goal from kicker Brady Frantal. UWEC would continue to chip away at the Titan lead with rushing touchdowns by Belot and quarterback Harry Roubidoux.
UWO responded to these touchdowns with a touchdown of their own, a one-yard rush by Mac Winkler to keep the Titans in control 54-24. Roubidoux would throw a passing touchdown late in the fourth quarter, but UWO would beat the Blugolds on the 100th anniversary of Homecoming, 54-31.
When Grant was asked about the importance of avoiding a three-game losing streak he said, "I think it was definitely a great comeback! Winning in this way after the last two weeks really rekindled the fire that we had starting out this year."
He also added that the win was very important to the program. "We had to make a statement, and we were able to do that," Grant said.
Kicker Jaydon Haag praised his teammates after the game. "It was a great team effort. We had the team clicking on all three sides of the ball."
Berghammer went 15-22 for 316 yards passing and a career high five touchdowns. He would also be chosen the WIAC Kwik Trip Football Offensive Athlete of the Week. This is the second time Berghammer has won this award, the other being after the win against UW-Platteville.
Tony Seger led the Titans in receiving, with 113 yards and two touchdowns.
UWO moves into a three-way tie for third place in the WIAC and improves to 4-2 (2-2 WIAC) on the season. UWEC falls to sixth with a record of 3-4 (1-3 WIAC).
The Titans have won 28 of their last 29 regular season home games and avoided their first three game losing streak since 2010. UWO has not lost to UWEC at J.J. Keller Field at Titan Stadium since Oct. 31, 2009.
The Titans look to improve to 3-2 in conference play when they face UW-Stout on Saturday in Menomonie.