Lohrenz runs XC leaderboard all year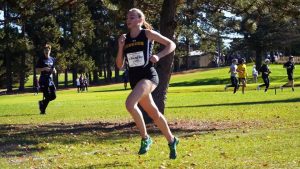 After a record-breaking cross country season, Hannah Lohrenz finished 31st in the nation, and the UW Oshkosh senior ended up earning conference-wide recognition.
After representing UWO on a national level and finishing with a 21:42 time at the NCAA championship on Nov. 20, Lohrenz took home the Wisconsin Intercollegiate Athletic Conference (WIAC) Cross Country Athlete of the Year.
Lohrenz also finished in third place overall at the NCAA North Regional meet with a 22:08 time and even won the WIAC Championship earlier this year.
The Hortonville native also had second place finishes at the Concordia University Wisconsin Weidt Classic and the OC Inter-Regional meet.
When reflecting on her season, Lohrenz said she felt thankful and appreciative for the experiences she was able to have this year. She also said that the closer the season got to the championship meets, the more she was enjoying herself.
"I honestly feel like I couldn't have asked for much more this cross country season," Lohrenz said. "I am grateful for how everything turned out, especially once we got into championship season. It was fun to push myself against other competitive athletes to see how strong I was or what I needed to work on."
Lohrenz said that her roots in running stem all the way back to her middle school days, when she started running competitively as soon as she was eligible to do so in sixth grade.
She has met a lot of people along the way, and enjoys being able to push her physical and mental limits.
"I love the people that I've met because of the sport and how you are constantly testing what your body and mind can do," she said.
Lohrenz is the 10th UWO women's cross country athlete to win the WIAC championship.
While it is Lohrenz herself who achieved many personal accolades throughout UWO's 2021 cross country season, she said she owes a great amount of gratitude to the supporting cast that she has around her for helping her become who she is on and off the trail.
"I am incredibly grateful for my coaches and teammates who have helped to make me into the athlete and person that I am today," Lohrenz said. "I've made a lot of memories being at UW Oshkosh and really wanted to do all that I could to succeed in my last season of competition in cross country."
Going into her last fall season under head coach Eamon McKenna, Lohrenz said that she gained a new appreciation for each of her races while representing the gold and black.
With the entire 2020 cross country season being canceled due to the COVID-19 pandemic, Lohrenz said she made the most of every race that she had this year, as she had no clue if there would even be a season.
"The key for me this year was to not take any race for granted and to give it all that I had each time," she said.
While Lohrenz did all that she could to physically prepare for her last cross country season, she said that self belief was her key to finishing in the top three in five consecutive races (with the NCAA national championship being the exclusion).
"Building confidence and trusting myself was important since once you are in shape for the season, most of racing is a mental battle," she said.
As Lohrenz faced the possibility of each race possibly being her last throughout conference and regional competition, she said that she made sure to leave it all out on the running trail. The senior ran for her ability to continue running.
"My goal going into the cross country season was to treat each race like it was my last one, which I guess technically each one was," she said. "I didn't want to leave the season having any regrets and I wanted to be able to say that I ended my cross country career in the best way that I possibly could."
While Lohrenz's UWO cross country career has already laminated itself as a past memory, she still has an entire indoor and outdoor track and field season ahead of her. The Titans have their first home indoor meet on Dec. 11 for the UW Oshkosh Early Bird Invitational, where Lohrenz will start her last track and field season as a Titan.