Titans' Yineman wins WIAC Title at 197 pounds
The UW Oshkosh wrestling team placed fourth in the annual Wisconsin Intercollegiate Athletic Conference championships on Feb. 12 at the Kolf Sports Center. 
The top finishers for the Titans included Beau Yineman, who was the champion at 197 pounds, Luc Valdez and Jordan Lemcke, runners-up at 125 and 285 pounds, respectively. Preston Morgan, who defeated teammate Connor Welker, won third place at 165 pounds. UWO had five additional wrestlers make the podium, with Nate Stockhaug and Issac Ortegon taking fourth and sixth respectively at 157 pounds,  Patrick Curran finishing sixth at 184 pounds, Denis Murphy sixth at 133 pounds and Matt Hanke sixth at 285 pounds.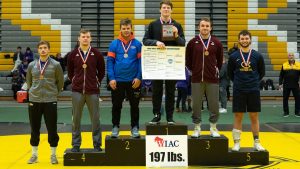 Yineman, who is ranked number one nationally at 197 pounds, picked up his second conference championship and defended his title by going 3-0 with one pin, a decision 8-3 and a 5-2 decision in the finals over Tyler Hannah of UW-Platteville. After receiving a bye in the first round, Yineman made short work of Jackson Schichel from UW-Eau Claire with a first period pin in 2:19. In the semifinals match, he recorded another victory over Marcus Orlandoni of UW-La Crosse. In the finals, Yineman wrestled a hard-fought match against a technically sound and tough defensive opponent in Hannah. After struggling to score early on, Yineman successfully defended two throw attempts from Hannah to score two takedowns and win 5-2. 
"I knew he was going to try to throw me late in the match, and I'm pretty good at defending throws, so I was ready for it," said Yineman. "The first one was a bit scary and he almost got me, but the second one was a last ditch effort so I was feeling pretty comfortable." 
125 pound junior Valdez defeated UW-Platteville's Nolan McKittrick 7-2 in his semifinal match in order to advance to the finals against UW-Platteville's Issac Wiegel, where he dropped a closely contested defensive battle 4-1. 
UWO's second runner-up was the fourth-ranked Jordan Lemcke at 285 pounds. Lemcke had a record of 21-2 upon entering the tournament and won a close 3-1 decision in the semifinals to wrestle sixth-ranked Ben Kawczynski of UWL in the finals. Lemcke had previously beaten Kawczynski at the regular season dual meet, but lost with a last second takedown 6-4. 
Teammates at 165 pounds Preston Morgan and Cody Welker met in the third place match with Morgan coming out on top 17-7. Morgan made it to the semis before losing to eventual champion Seth Brossard 5-2 and Welker fought his way back from a first round loss to the third place match. 
At 157 pounds, Stokhaug and Issac Ortegon also wrestled each other in the consolation semifinals with Stokhaug coming out on top 9-0. Both wrestlers were defeated in the final round. 
With the addition of three more sixth place finishes from Murphy, Curran, and Hanke, the Titans compiled a team score of 89, placing them at fourth in the tournament. 
The team had high hopes going into the tournament coming off a 3-2 conference dual season and a 12-2 overall season, including a recent win over number 3 ranked UW-La Crosse. However, their performance was not what they had hoped for. 285 pound wrestler Guyon Cyprian spoke of the performance of the team. 
"As a team we felt that our performance at conference was not where we wanted it to be. We know what our guys are capable of but we just did not display it well."
 Yineman says that the tournament has given the team new goals heading into the postseason. "The starting lineup has been training a lot harder to get our conditioning to the best it can be," he said. "We're also working on things like mat awareness and being solid in our technique." 
"As far as the mindset of the team, we are really fired up for regionals because we have really been working hard to prepare and can't wait to see how our hard work will pay off," said Cyprian. 
The UWO wrestling team will kick off the postseason this Saturday at the NCAA Division III Upper Midwest Regional in Eau Claire, where they will be competing for a spot in the national championship.