Lemcke secures national title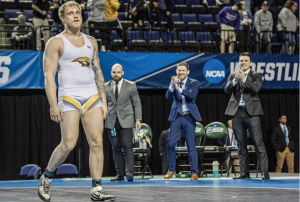 Over the weekend, Jordan Lemcke wrestled in dominant fashion and earned a place as the third all-time Division III national champion for UW Oshkosh wrestling. Lemcke, seeded fifth in the 285 pound bracket, wrestled 4 perfect matches, undefeated and unscored upon through the two day tournament featuring the nation's best division III wrestlers in Cedar Rapids, Iowa.
"It's been unbelievable. I've been on cloud nine ever since," said Lemcke. "The only thing I had on my mind going into the tournament was winning, and I've been working hard with my coaches and my teammates all year to get there."
Lemcke attributes his success in the national tournament to the efforts of the UW Oshkosh coaching staff as well as the hard work that he put in with his teammates.
"If I didn't have my coaches there to help me plan for my matches and give me strategies, the result would not have been the same. All credit goes to them."
Additionally, the partnership between Lemcke and Yineman in the wrestling room was a substantial contribution to both wrestlers' success.
"Beau and I were in the room every day working hard to achieve our goals, and I really couldn't have done it without him to be there to push me every day," said Lemcke.
"We both had the same goal and we both pushed each other to work harder. Having both of us wanting to win nationals created a great, healthy competitive atmosphere that made us both better," said Yineman.
In the first round, Lemcke defeated Palmer Rodenhaber of Alverina College 5-0 and beat Thomas Maretta of the College of New Jersey 2-0 which earned him a spot in the semifinals. In the semis, Lemcke took down Robby Bates, who had defeated the number one seed in the bracket on his way to the semis. In the finals, Lemcke faced seventh-seeded Donavan King of Olivet College, who had pinned his way to the semifinals and won on a close decision 3-1 against number six seeded Tyler Kim of Augsburg. In a tight and highly competitive defensive match, Lemcke came out on top with a 2-0 decision, securing the national championship and giving him a combined match score of 11-0 in the tournament. "I feel extremely grateful for everybody who's helped me to get here, most of all my coaches and team." In his final year as a Titan, Lemcke finished second at the Wisconsin Interscholastic Athletic Conference (WIAC) tournament and had an overall match record of 28-3.
Also representing the Titans at the national tournament were 197 pounder Beau Yineman, who earned a third place finish and All-American honors and 165 pounder Preston Morgan, who compiled a 2-2 record in his first national tournament appearance.
Beau Yineman finished a highly accomplished junior campaign by winning the third place match 10-4 against Camden Farrow of York College in the 197 pound bracket. "I feel pretty good about it. But I also really want to win a national title. I'm happy, but I see what I want next," said Yineman.
He started the tournament with two dominant wins to make the semifinals against number one seed Cody Baldridge of North Central College. After a narrow loss 7-4, Yineman had to come back to wrestle the third place semifinal less than an hour after his match with Baldridge. Despite the quick turnaround, Yineman was able to defeat Bentley Schwanebeck-Ost of Augsburg University 7-5, which he accredits to superior preparation and training.
"He had a lot of rest and I had almost no rest, but I felt I was still able to out-condition him and get the job done," said Yineman.
Yineman went on to finish off the season with a win 10-4 against Camden Farrow of York College in a strong showing to end up at third place in the bracket.
"It felt good to finish strong," said Yineman. "I wasn't really comfortable in the previous match, so it was nice to be able to wrestle as well as I know I can."
Yineman finished his junior season with his second consecutive WIAC title, his first All-American finish for the Titans and an overall record of 36-4 with 16 pins.
Also representing UW Oshkosh was sophomore Preston Morgan at 165 pounds. Morgan finished the tournament with a 2-2 record. After losing in the first round, Morgan won back to back matches against Issac Matthews of Oswego State and Dalton Leightner of Baldwin Wallace University before being eliminated by seventh seeded Chase Schmidt of UW-Eau Claire, finishing the season with a 22-10 overall record.
The Titans finished in 10th place out of 60 scoring teams in the tournament with a score of 33.5 points. At the WIAC tournament, the team took fourth place and compiled an overall dual record of 12-2.
"I think overall as a team we're happy with how the season went, but we're ready to get back to work for next year," said Yineman.