UWO football holds spring practices
The UW Oshkosh football team has been hard at work preparing for the upcoming season at J.J. Keller Field throughout the month of April during what is known as spring football.
Spring football is a period where the NCAA allows Division III football programs to conduct 16 full-team practices. In all of the 16 practices, players are allowed to wear a helmet, and in four of the practices, players are allowed to wear pads.
"Spring football is an opportunity for us at the Division III level to work with our young men in a way that doesn't allow for a ton of hitting," head coach Peter Jennings said. "It does allow us to do a lot of football-specific drills that can help us grow as a football team for the fall."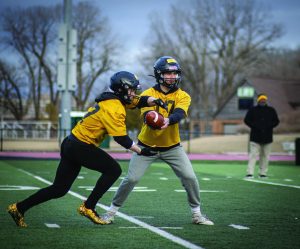 The Titans use spring football as a time to prepare for training camp, which starts in August. UWO practices nearly every part of the game in its spring ball practices, including offense, defense and special teams. In addition to the practices, UWO football players attend meetings with coaches six days of the week to go over new plays and to break down film from previous practices.
Jennings said he wants to work on urgency and intensity with the team during spring football.
"I want us to have total mastery of what we're trying to do offensively, defensively and with special teams," he said. "I want us to perform in an urgent and detailed manner, and I want our guys to come together closer with their teammates and coaches."
Every practice starts with a team warm up and is followed by a competition between two position groups. These competitions range from offensive linemen attempting to catch punts to wide receivers and defensive backs going one-on-one against each other. Sometimes even the coaches and equipment managers get involved with competitions of their own, like 40-yard dashes.
After the fun is over, it's right down to business for the Titans. Players work with both their position coaches during "indie periods" and with the full team during the "team periods". Special teams get sprinkled between periods where UWO will go over punt, field goal and kickoff formations. Each period lasts five minutes, and there are about 22 periods every practice.
Once the last period is over, the team stretches together and listens to Jennings go over what went well in the practice and what still needs to improve. After that, the players hit the showers and move on to the next practice.
Jennings said that there's a lot of time where coaches don't see the players in the offseason, which is why spring football is so important.
"We're a team that spends all fall and, if we're lucky, some of the winter months, together," he said. "This is an opportunity for us to help coach, help mold, help lead, help guide and just help grow our program for the future."
Jennings, who was named head coach of the Titans on March 1, said he couldn't be happier with the way the team looks.
"I think we're doing a great job of focusing on daily growth," he said. "I think we're doing a great job of focusing on being the best versions of ourselves, and I think it's only going to lead to great things moving forward."
The Titans will conclude their spring practices on Friday and will begin the 2022 season with training camp in August.