UWO soccer winless in last 5 matches
The UW Oshkosh women's soccer team fell to both Lawrence University and the University of Dubuque 2-1 at home to go winless in their last five matches.
The Titans (2-3-2) opened the season with two wins before going winless at home in their first three games at J.J. Keller Field at Titan Stadium.
Last Wednesday, the Titans quickly fell 2-0 down to Lawrence after goals from Natalie Linebarger and Cambrie Rickard inside the first 30 minutes of the match. UWO battled back in the second half, forcing a Vikings own goal in the 69th minute, but were unable to find the equalizer in the loss.
The Titans led the game with 16 shots while holding Lawrence to just eight, but were unable to put the ball in the back of the net. Forward Rylie Kaufmann, Midfielder Molly Jackson and defender Mackenzie Bennett each had four shots in the contest to lead UWO.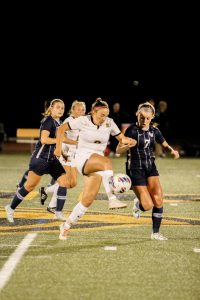 On Saturday, the Titans fell down 1-0 and clawed their way back to level terms, but it was not enough as the undefeated Spartans secured the victory. Dubuque's Emerson Wilson scored on a header from a free kick on the edge of the box to take the lead. Under two minutes later, UWO tied the game after a Molly Jackson goal with an assist from Rosie Rojewski.
The two teams played an evenly-matched contest for the next 10 minutes before the Spartans found the breakthrough, this time from an Alyssa Tranchita goal. Though the Titans outshot Dubuque 19-13 it was not enough as UWO fell once again.
Kaufmann said in both games the team needed to capitalize on their opportunities.
"There were plenty of chances for us and we just need to put them in the back of the net," she said.
"We need to improve on finishing and putting the ball in the net when we have our chances," Kaufmann said. "We have a great team and we just need to find our groove."
Yesterday, Oshkosh took on North Central College in their third straight home match at Titan Stadium.
On Sept. 28, the Titans will travel to Carroll University to take on the Pioneers at 5 p.m. at Schneider Stadium in Waukesha.