2023 Senior Spotlight
Two Titans have dominated the mat and the court
At the end of every season, numerous UW Oshkosh senior athletes hang up their title and advance into their future. Here, we'll feature two Titans: wrestling's Eli Mondrella and women's basketball's Jenna Jorgensen.
Mondrella has participated in UWO's wrestling program since 2019, but he fell in love with the sport long before then. He said that since being introduced to wrestling, the sport has been a family thing for him.
"I started in fifth grade," Mondrella said. "My dad was a wrestler who introduced me to the sport. I fell in love with it right away."
He continued to wrestle and eventually attended Minooka Community High School in Illinois, a school he said prepared him for the collegiate level of wrestling.
"I had professional exposure from my high school wrestling program," he said. "I came up here while I was looking at one other school, but then I decided to come here and I've enjoyed my five years here."
When he joined the UWO wrestling team his freshman year, he said that he immediately found fun and camaraderie in the program.
"My freshman year was pretty good," he said. "Half the team was freshman, so … it was a really good team environment. [But] all of my years, the team has been close and looked out for each other."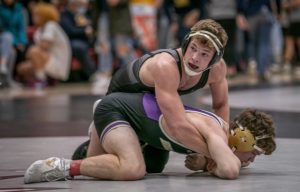 During 2021 when wrestling adjustments were being made for COVID-19 so that the season could go on, Mondrella suffered an injury after butting his knee with an opponent. The incident was enough to tear his ACL.
After his injury, he struggled to choose between healing and being an active teammate. But eventually,with the support of staff, Mondrella was able to start the healing process.
"It was hard because COVID-19 made getting surgery really difficult," he said. "The trainers were a massive help, though, because I was able to do all of my physical therapy through the school."
Throughout the healing process during the COVID-19 season, Mondrella said that he continued to show up to team practices.
"I was hurt, but I kept coming," he said. "COVID was a challenge; there were a lot of ground rules that were set during school. Masks, consistent testing, only having one partner to work with, but our guys made the best of those challenging circumstances."
Despite his injury in the previous season, Mondrella returned to the team to help hone his teammates skills; however, he didn't expect an opportunity to wrestle to present itself. 
"I hadn't planned on competing this year, but this summer the previous coach resigned two months before the season, and a lot of people bailed out on the team," he said.
Because of that, he said he felt the team was stronger on an emotional level due to everyone's commitment to the team when coach Aaron Konitzer took over.
"This year has been very different with such a small team," he said. "The team dynamics are new … but the guys have done well adapting to [Konitzer]."
Mondrella said that this year showed the drive and commitment in the wrestling program due to the thinness of the crowd.
"Every day this year we had 15-20 guys in the room," he said "What I took away is that it showed a different level of commitment from the guys that were there. People there were there to be a part of the program."
Beyond the athletes, Mondrella said staff also allowed the team to excel through difficulties, making the team closer and stronger together.
"This is one of the closest teams I've ever been a part of," Mondrella said. "It felt more like a family than any other team I've been on in my 13-year career."
He said that his cumulative experiences at UW Oshkosh have made him the person he is and intends to be.
"I'm really grateful for my experiences here and not just wrestling," he said. "My program teachers did a lot for me over the past few years and my coaches Aaron Konitzer and Matt Rikeoff did a lot for me and helped me grow as a person; they made me a man."
Mondrella said that despite falling hopes for the season, it allowed the remaining wrestlers' perseverance to show.
"Last year we beat UW-La Crosse so we had high expectations, but those expectations dropped and a lot of people left. I think that says something about the guys who stayed. They didn't expect to win, but they still stuck through and battled their asses off. They put their heart into their matches and never cut themselves short."
As for the women's basketball team, senior Jenna Jorgensen has served as the team's point guard for the past four years.
Jorgensen said that she started playing basketball at a young age and grew up alongside the sport.
"My parents signed me up in third grade and I started playing in 3-3 leagues," she said. "Someone my dad knew made a team, I joined and I went from there. I grew up loving the sport and friends that I played with."
When it came to choosing a college, Jorgensen said she was late to commit and unsure of what she wanted to do in college.
"I committed a while after my senior basketball season," she said. "I committed in March, and I didn't know if and what I wanted to play in college; I could've gone for golf or even to other universities."
 Jorgensen said that what made her ultimately choose UWO was family ties and awareness of UWO's sports reputation.
"I chose Oshkosh basketball because it was close to home and I knew that Oshkosh was a winning program," she said. "I also wanted to come because my dad and uncle are in the baseball Hall of Fame and I wanted to make a name for myself here."
Jorgensen joined the basketball program in the 2019-20 season and started small, but she showed promise and moved forward in the team.
"I knew coming in not a lot of freshmen played right away, so I realized that it would take time," she said. "My freshman year, I got a couple minutes here or there, but sophomore year I got a bit more time and I took advantage of it."
She made use of her playing time during her sophomore year, averaging 18.5 minutes a game and 10.1 points per game. After that display of force, she said she began to get a lot more playtime per game.
"Junior [year] I got around 20-25 minutes of playtime and senior [year] I got 25-30 minutes of playtime," she said. 
She said that something that has helped her develop is the trust that her coaches put in her, with head coach Brad Fischer relying on her when other teammates suffered injuries.
"Sophomore year, Fischer and I had talked about me playing because other teammates were out with injuries," she said. "He's helped by trusting me in any sort of game situation."
After the Titans finish the postseason, Jorgensen will be done with UWO basketball, but she said the experience is something that she'll carry with her for the rest of her life.
"It's been a great four years and I've created lifelong friendships," she said. "Coming into college, you're nervous, but having a team helps you create friendships right away. The payoff of the difficulties of making it to championships is amazing; it's something that I'll look back on in a decade with friends. It was worth my while and I'm happy I got to experience it."
Jorgensen plans to graduate with a bachelor's degree in elementary education and hopes to teach at the second- or third-grade level. She will be a student teacher in the Green Bay area, where she would like to stay local. 
Mondrella intends to student-teach this summer, and then attend graduate school at UW-La Crosse to receive his master's in adapted physical education. He plans to stay in the Midwest and teach at the kindergarten through fifth-grade level.