Baseball seniors look to leave legacy
America's favorite pastime has returned, and heading the Titan baseball team are two seniors who are potentially playing for UW Oshkosh for the last time: Trey Tennessen and Connor Giusti.
Tennessen said he began playing baseball as a child and showed early signs of being a strong pitcher. Once he was noticed by coaches, he became more interested in the sport.
"I remember playing at an indoor facility when I was 7 or 8 and my parents signed me up," he said. "I got thrown on a free agent team, and a coach noticed my pitching. After that practice, my coach had me pitching from there out. My parents then signed me up for a summer trip. After that, the love grew and grew."
"I did pitching lessons with Josh Richie and Tom Lechnir, who was the old UWO baseball coach," he said. "He was here when they won the championship. As I got older, I played football and baseball, and I loved both of the games. I went to an awesome sports school at Kimberly High School … it taught me a lot of lessons." 
Tennessen said that through connections with travel teams, his coach put in a word with UWO coach Kevin Tomasiewicz. After that, he toured the campus and said it was a good fit for him.
"I fell in love with the coaches, campus and facilities and I committed to my senior year," he said.
He said that the team culture allowed for a smooth transition, and he hopes to allow new freshmen that chance.
"When you come into a new culture, it's easy to sit back and let it happen," he said. "So I watched the seniors and got a good feel, and those seniors made a huge impact on how I treat the freshmen now. I'm the senior and I'm going to show the freshmen how it's done so they can do the same." 
After the first two weekends of play in 2020, COVID-19 hit, making the season a strange experience. Tennessen said that the entire team faced difficulties, but he still thinks about the seniors of that year.
"It was a huge roadblock," he said. "It was hard for our coaches that year because I couldn't imagine recruiting and getting the team together was a pain in the butt. You could tell how much it hit home for the seniors that year. Sometimes I take getting up at 6 a.m. (for practice) for granted."
He said that during his time on the team, he's created relationships that will last for life.
"The one thing that will stick with me is the relationships I've made," he said. "These are guys I'll invite to my wedding. You truly find your best friends in college. One of the weekends we traveled, our coach couldn't reschedule, so an Illinois guy (who was on the team) offered for us to stay at his home and we had dinner with his family. The little stuff will stick with me. In a month and a half, I'm going to leave and won't see these guys like I do now." 
Tennessen said that he's already passed on the knowledge to freshmen about the importance of their actions and their full participation on the team.
"I tell the freshmen to compete every chance they get," he said. 'This is the last chance to compete in your life. When you lay your head down at night you need to say it's the best you could have done. Everytime you walk on the field or lace up your cleats you know it's your last.'
Guisti said he began playing as far back as he can remember and that it has been an experience that brought him closer with his father.
"Growing up with travel teams and kids leagues, [my dad] coached me whenever he could," he said. "He coached at our rival high school so that was fun. It was always fun in high school being able to play him. I played third base and he was the third base coach 10 feet away from me."
Guisiti said that during high school, he began to get serious about pursuing baseball. He  visited different schools and found UWO to be very welcoming.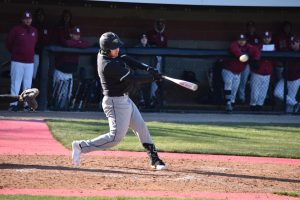 "My sophomore year I got serious," he said. "I stopped playing basketball to focus on baseball, and that's when I started to grind. Senior year after going to different schools, Oshkosh reached out and I had friends who were already here. The school seemed fantastic and it seemed warm and welcoming."
He said that the transition from high school to college was difficult, especially with making baseball a top priority. Despite the difficulty, he said that being part of a high level team was a fun experience.
"Getting into freshman year was a transition," he said. "But it stinked our first year because we only played six games, and had 5 a.m. practices. You fall in love with the grind and it's a different experience, but it's so fun being with a good team and having everyone buy in."
Sophomore year was a turning point for Guisti, as he began to pick up responsibilities that he's trying to instill in the next class of players now.
"Sophomore year I started to get the hang of things," he said. "Our coach was awesome with getting us going and letting us know that we had to step up. Once you get the hang of everything, you teach the younger guys and you get them as comfortable as you are. It's a big part of being a senior for sure."
Guisti said that he's excited for this year and the opportunity to use everyone's skills to succeed.
"This year … has been (about) having a team buy in," he said. "We've always been close, but this year is different. We all feel good and have high hopes that this could be a good year. (We're) sticking to the grind and taking it one game at a time."
Despite the distance, Guisti said that his dad makes whatever efforts he can to support him as an athlete and doing so has been a big help.
"He does whatever he can to watch livestreams and he schedules his games around our schedule," he said. "Hearing his insight throughout my entire life, seeing things I never see and getting his experience and tips, all the advice he has given me has put me in a very good transition."
Looking beyond UWO, Tennessen said that he hopes to live in the Kimberly or Appleton area, work as a physical education teacher and coach either baseball or football. He said that he loves being around kids and instilling values that make them  better people. He said that the biggest factor in this was Jack Breese, a P.E. teacher and football coach during his time in high school.
Tennessen said that he hopes that freshmen continue the legacy that he left to them and others had left to him, and hopes that he can instill legacy wherever he goes.
"When I was a freshman I sat back and learned. I want these freshmen to leave the same impact that other seniors did on me," he said. "Keep that legacy and continue the tradition. I learned about life, school, my job, my relationships, and I want the next kids to follow in my footsteps to do that as well."
Giusti said that he's considering returning to the Chicagoland area and using his marketing and sales degree after he graduates. He's unsure if he will return to UWO for another year if he attempts to further his education, but he has started to look into pharmaceutical sales and talked to marketing companies.
He said that the team is in good hands and that the culture will continue to be strong with the next class of players.
"The team culture has never been better," he said. "I think overall, the future of UWO baseball is in really good hands, especially with the new field. Titan baseball will be (as) successful moving forward as they have been in the past."