UWO seniors hope to go out with a bang
America's favorite pastime has returned, and heading the Titan baseball team are two seniors who are potentially playing for UW Oshkosh for the last time: Matt Scherrman and Jackson Broom.
Scherrman said he began playing baseball as soon as he could, following in the footsteps of his father and grandfather.
"I got into baseball as soon as I could swing a bat," he said. "My grandpa and dad played college and they're both coaches so baseball grew up in the house."
Scherrman said that his family has deep roots in baseball between time in the minor leagues and appearances in movies.
"My grandpa had a stint in the minor leagues with the Washington Senators," he said. "As well, my grandpa was in the movie Field of Dreams and my dad was in the background, because they filmed it 15 minutes from where they grew up."
Scherrman said that his dad coached him throughout most of his career from when he was seven to the end of his high school career.
During that time, Scherrman said his father helped him join baseball at the collegiate level.
"Growing up I knew that when I was in middle school and played travel that I wanted to play at the college level," he said. "He was a huge help because he knew the recruitment process."
Scherrman said that committed late to Oshkosh, but he's pleased with both its athletic and academic programs.
"I didn't commit to UWO until really late… I didn't commit until spring," he said. "Oshkosh wanted me and they made it clear there was a spot for me. The business school (is good) because I'm a supply chain major. I wanted to be able to win and compete for conference, and if you do that (in the WIAC) you have a chance at nationals."
During the summer of 2021, COVID-19 interrupted many aspects of life and Scherrman said that one of those aspects was summer league training, but he was able to find a way to still play for his grandpa.
"During COVID-19 summer there weren't many leagues available," he said. "In Iowa there's an adult league my grandpa has coached since he was 22, so I was lucky enough to play for him that summer."
He said that the experience was an intimate experience where he was able to get closer with his grandpa.
"It was a good summer-we won the league and a couple tournaments," he said. "That was something that was cool for my grandpa but just as cool for me to play 45-50 games that summer with him."
Scherrman said that during his four years, he's had interactions that have benefited and he hopes to continue that tradition.
"Being a senior and being here all four years has been awesome, (between) the people I've met and all the teammates," he said. "There's a lot of older guys who have led me in the right direction, so I try to do that for other guys to pass the torch, so that's where I'm at as a senior."
He said that he predicts the team will have a good season due to age and experience on the team.
"We have a good team this year and we snuck into the top 25 in nationals," he said. "We have an old and experienced team so that goes a long way as far as record and being against other teams."
In order to secure the season, Scherrmann said that he plans to lead however he can in order to ensure not just a good season, but a model for future athletes.
"Typically I lead by example," he said. "There's the vocal and the physical side of being a leader. Working hard and treating everyone with respect." Scherrmann said when he was a freshman and sophomore he tried to replicate how his seniors acted. "It worked for me as a young player and hopefully other people can do it every now and then," Scherrman said.
Broom said that he began to play at six after being forced by his dad to, but he found that he loved the game.
"As a kid I played at six and I didn't have a choice," he said. "My dad signed me up for a spring league and I fell in love right away."
Broom said that he owes the past 16 years of enjoying baseball to his dad, who helped coach him until he realized he had potential to play at the collegiate level
"It's been 16 years of fall and spring ball and my dad was my coach from (age) 6-15," he said. "He's the reason I like baseball so much … I owe it all to him. I knew from 14 on that I had a chance to play in college."
He said in his college search he found he loved what Oshkosh could allow him to do.
"Coach Zach Deutscher from UW Oshkosh reached out and I visited and I loved everything," he said. "It gave me a chance to compete at a high level. This conference is the best baseball conference at the Division III level nationally."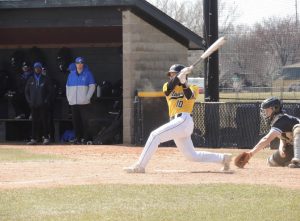 Broom said that from the onset of his time here at UWO, upperclassmen have made efforts to make sure that everyone on the team was supported and aware of what they need to do.
"My freshman year, seniors and juniors even before our first practice laid everything out for us of what to expect and what to do," he said. "So going into the first practice I had an idea of what to expect."
Despite these efforts the team was unable to compete due to COVID-19, but Broom said that the team has begun to find out what it takes to be successful in baseball in the post COVID-19 era.
"My freshman year the whole season was canceled so that was rough," he said. "The second year we had no away games, and when we played in conference we couldn't stay at hotels… that was exhausting. Without restrictions everything has settled down, everyone in my class has started to find out what college baseball is all about."
In order to make sure their efforts are continued, Broom said that he has relied on lessons he learned from the seniors before him in bringing up the freshmen.
"I took a page out of the book from my seniors," he said. "I explain, 'this is where you need to be in certain situations,' making sure they know what to do. We guide them so that they can relay it and still be a good team looking forward even after our seniors graduate."
Broom said that he's confident that the team is capable of advancing past the regular season due to the experience and reliability of the team. 
"I think we're a well rounded experienced team," Broom said. "Even the younger guys play with maturity without the fear of them screwing something up or not knowing what they're doing. I think we will have a very good record and make a playoff run."
Looking beyond UWO, Scherrman plans to work an internship for Kranze Technology Solutions, a company that manufactures aviation equipment for the military. Scherrman will be involved in the supply chain management of the facility. After he plans to attend graduate school but currently is not sure where.
Due to COVID-19 eligibility, Scherrman is able to have another year playing for UWO; however, he is not sure what he has planned.
Scherrman said that he looks forward to the future of UWO and seeing who will fill their leadership roles on the team, but he's confident in the team's ability to succeed moving forward.
"I'm really excited for what they're going to have and who's up next to fill those shoes," he said. "There's a lot of sophomores and juniors playing right now so they'll be able to take that next step and fill those shoes. The program is in good hands and is finally getting national recognition … I like where the program is headed."
Broom said that he's graduating this spring and applying to physician assistant schools within the Midwest as he would like to stay close to family in the northern Illinois region.
Looking forward, Broom said that he's confident in the team's ability to continue with the preparations that have been put in by his class.
"We are losing a lot of guys, but I feel confident in what we're leaving behind," Broom said. "All the seniors as a whole have done a great job preparing them for when they do have the opportunity. For the next couple of years we are going to have a great team."