One of the best to ever do it
Fink excels on mound in senior year
Senior pitcher Maddie Fink has embodied dominance on the softball field for UW Oshkosh since she stepped on the Titan diamond in 2019. Now she's doing everything she can to enjoy the last moments of her collegiate career.
When all is said and done, Fink will go down as one of the greatest pitchers in UWO softball history. In four years, she has accrued a 47-13 record in 403.2 innings with an earned run average (ERA) of 1.72. The Stevens Point native has also racked up 318 strikeouts while relinquishing just 119 walks.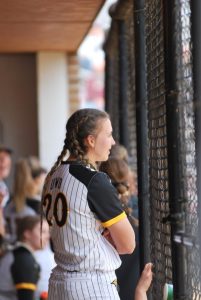 Fink is the 2021 Wisconsin Intercollegiate Athletic Conference (WIAC) Pitcher of the Year and is looking to claim that title once more this year, as she is 12-2 in 98 innings with a 1.21 ERA. 
Fink said her passion for softball started early, and coming from a competitive family was one of many factors that pushed her ahead of the pack. 
"In my first season in the rec league, I wanted to try out for the competitive travel team in my city," she said. "I was the youngest one there, one of the newest players, but the coaches of that team saw something in me."
When it came time to graduate high school in 2018, Fink chose Madison College as the next stop for her academic and athletic career. 
After a year, where she led the team with 20 starts and was named to the Region IV Division II All-Tournament Team, Fink sought to join a four-year university.
During Fink's search, she said that she wanted something that embodied a family atmosphere. It was all about cohesion and finding a place that felt like home.
"I wanted to be part of a program that had a tight-knit, team-oriented culture of people working towards one goal together," she said. "When I first reached out to Coach Beyer, from our communication I had a good feeling that I would find that there."
UWO head coach Scott Beyer recruited Fink from her high school days at Stevens Point Area Senior High. 
Beyer said that upon seeing Fink enter the transfer portal, he was thrilled to see that his team would receive a competitive, selfless personality on the mound.
"I really liked her competitive drive. She was a multi-sport athlete, and that competitive edge was easy to see early in her career," Beyer said. "She is the type of kid that puts the team first and makes everyone around her better."
During Fink's search, she said that she wanted something that embodied a family atmosphere. 
While Fink's first season as a Titan was shortened due to the pandemic, the right-handed hurler showed her potential in a small sample size. She put up a 4-0 record in five appearances with a 1.12 ERA in 25 innings. 
In 2021, not only did Fink win WIAC player of the year, but she spearheaded a rotation that took Oshkosh to their best College World Series finish in program history when the team finished in fifth place. 
Senior Hannah Ritter has nothing but high praise for her ace. Ritter, who is on pace to have the best career batting average in WIAC history at .490 (the current record is .446 by Terra Burr from 2006-09), said she considers herself lucky that she doesn't have to face off against Fink.
"I can't lie, Maddie the player can be a bit intimidating," Ritter said. "She is always locked in during every pitch, and I would hate to be on the receiving end of her pitches. However, Maddie the person is one of the most genuine people I have ever met."
As Fink settled in at UWO and improved, she found herself scrambling during a stage where she was hypercritical of her play on the field.
Tweaking one's play is one thing, but Fink said she reached a point where she was constantly attempting to outdo a prior version of herself. 
That mindset was a counterproductive one.
"I tried so hard to change things to become a better pitcher, and the amount of stress and pressure I put on myself did not translate into success on the field," Fink said. 
Now, the ace has found that living in the moment and being the best version of herself is the way to go. Having the most wins and second-best ERA in the conference this season would indicate that it's working. 
Coach Beyer said he has noticed Maddie's mindset as a leading factor in her production. Wherever there is a high-stakes moment, Fink is involved and eager to excel. 
"Maddie has a unique ability to live in the moment, but not let her emotions take over," he said. "She bottles it up and uses the energy of a big pitch in a very positive way. I think a lot of pitchers can let that moment get too big for them and crumble under pressure when Maddie thrives in that situation."
While Fink's individual performance has helped her team on numerous occasions, the pitcher's impact stems from beyond her physical ability.
Encouraging others, specifically players who look up to her due to the dominance and poise she exudes on the mound, has always been at the forefront of who Fink is as a teammate.
Ritter said that Fink's team-first mentality makes for a positive atmosphere, and it helps in multiplying the high moments.
"Maddie is always the first person to celebrate other teammates' successes," she said. "She is the first one off the bench during a big hit and can be super loud and encouraging throughout the game."
While Fink has experienced everything from complete game shutouts to as much as 11 strikeouts in a single contest, she said the stats aren't what she'll remember.
She said the bonds that she has built with the women around her, which is exactly what a freshman from Madison College was looking for in 2019, is what she'll hold with her.
"I can say for certain that I have found some of my forever friends on this team," she said. "I was so fortunate to enter a group of girls that all genuinely cared about each other more than any trophy or accolade."
Fink will lead Oshkosh (27-3) as they begin an eight-game road trip with a doubleheader against Marian University on Thursday before wrapping up the season at home against UW-Platteville on May 6.