From leukemia to student sportscaster
I knew at a very young age that I wanted to be a sports broadcaster. I looked up to people like Stuart Scott — maybe it was because we share the same name.
I enrolled into the radio/TV/film program at UW Oshkosh in the fall of 2014. I was ready to learn new skills, perfect my craft and get ready to be on the radio one day. Everything I had planned since I was a young boy was working out perfectly.
On Nov. 12, 2014, I woke up with a sharp pain that felt like a knife was getting plunged into my left shoulder and someone was pushing it deeper and deeper.
I went to class anyway, fighting through the pain. After about an hour and a half, I started to get a pain in the lower left side of my stomach. I couldn't deal with the pain any longer, so I went to the Student Health Center.
They did a couple of tests, but they lacked certain resources and couldn't find anything. They told me if I thought it was necessary, I should go to the main hospital in Oshkosh. So I did.
I called my sister, who was also attending UWO, and told her that I wasn't feeling well. Before she arrived at the hospital, I had a CT scan and the results had just come in.
I was told by the physician assistant that my spleen was three times enlarged, causing my stomach pain. My spleen had hit a nerve, causing the shooting pain in my left shoulder.
Worst-case scenario, I thought I was going to have emergency surgery to have my spleen taken out.
I asked the physician assistant if I was going to be able to make it back to class in time. He just kind of chuckled because he thought I was joking.
Once he realized I wasn't joking, he told me that I was not going to be making it back to class that day and there was a high probability that I was going to have surgery within the next few hours.
What I thought was terrible news was only just the beginning. My life was about to change forever.
The physician assistant told me there was a 99% chance that I had leukemia. I went into shock and asked my sister why she was crying.
"I'm a winner and I'm going to beat this," I told her.
To this day, I still don't understand how I showed that much confidence in that moment. I had no idea what was in front of me and what my body was going to be put through over the next three and a half years.
The call to my father was the worst phone call I've ever had to make. I truly hope I never have to make a phone call like that again, and I hope no one has to make a phone call like that in their life.
The next morning, the 1% hope I had of not having cancer was quickly demolished when the doctor walked into the room and told me that I did, in fact, have leukemia.
After about two and a half weeks of chemotherapy, my hair started to fall out in chunks. After my dad shaved my head, so I didn't have missing patches on my scalp, I looked into the bathroom mirror and started bawling my eyes out.
Just before I was going to be released from the hospital, I had some stomach pain and told my doctor about it. X-ray results showed that not only did I have leukemia, but also a fungal infection in all my major organs, causing them to start shutting down.
I spent the next few months in the hospital with the exception of a handful of days. I was told by doctors that the antifungal medication I had to take would be harder on my body than chemotherapy.
It turns out I was allergic to the antifungal medication. I thought I was going to die because I knew I had to receive this antifungal medicine no matter what.
It was not all dark and gloomy in the hospital, though. I developed personal relationships with the nurses, bringing me some joy during this dark time. One day, we had a Nerf gun fight when one of them moved to a different hospital.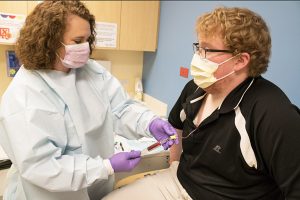 After a year of treatment, I was considered healthy enough to do my treatment outpatient and go back to college.
I was told it would be a smart decision to take a small credit load and stay close to home. So instead of returning to UWO, I went to a small community college in Baraboo, WI.
I took a full load of 16 credits, the exact opposite of what my doctors suggested. This was only a month after having to use a walker for the past year.
After two semesters at the community college, I decided it was time to go back to Oshkosh. I still had a dream of being a sports broadcaster and I knew UWO was my best opportunity to do so.
When I came back to UWO, I was still receiving chemotherapy orally every day and was going back to Madison once a month for three rounds of chemotherapy and a spinal tap. My hip was deteriorating from the side effects of steroids, chemotherapy and other drugs.
Simply walking from my dorm room to the classroom, a short five- to 10-minute walk, gave me extraordinary pain. I had to give myself pep talks every morning just to walk to class, but I was willing to put myself through the pain to achieve my dreams.
I finished my chemotherapy treatment in March of 2018.
When UWO's men's basketball team made it to the Final Four, I was given the opportunity to call those games at the age of 22. Some broadcasters go their whole career without ever getting an opportunity to call a championship game.
The game happened to be on March 21, one year from the exact day I received my last chemotherapy treatment. I just sat in my chair and started crying.
I had gone through three and a half years of chemotherapy treatment and I was about to call a national championship game. I was healthy and strong — my dreams were coming true.
My coworkers did not know about my past. I tried to keep it a secret because I didn't want to be viewed any differently, and I didn't want any pity given to me.
The Titans would go on to win the Division III Championship game that day. March 21, 2019 will go down as a historic day for UWO, but to me, it will be remembered as the first day of my new life.
I am now the sports director for WRST radio at UWO, co-hosting "The Sports Page," and I also run my own podcast, "StewsPicks." I will be graduating this December.