Reed all about it
On Monday afternoon, UW Oshkosh chancellor Andy Leavitt played his alto saxophone in the Titan Underground as a part of the Flourish Through Music and Mindful Music Monday programs.
Leavitt has been playing saxophone since he first got involved with his school's band program in the fourth grade.
His passion for music came with him to university, where he even studied music for a while.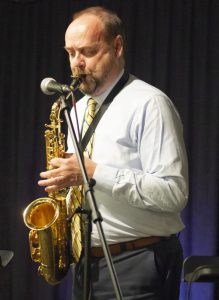 "I was a music major for two years at the University of Arizona before I changed my major to chemistry," Leavitt said.
He later played in university bands at the schools he worked at prior to UWO.
"I kind of left it for a long time and I'd say about 15 years ago I started playing again and played in the ensemble of the school I was working at, then moved to the next school and played on their ensemble — they had a jazz ensemble — then I came here."
"I just play at home by myself, but the technology is so good now that you can find just about any accompaniment online now, so you're not really playing by yourself."
Leavitt went on to discuss how playing the saxophone has led him to have a greater appreciation of music.
"It is relaxing," Leavitt said. "I usually listen to whatever happens to be on the radio. I like classical music, I like jazz, I like pop music, R&B, you know, anything that happens to be on."