Sweet, sweet victory for the WIAC champs
The UW Oshkosh women's basketball team defeated UW-Whitewater by a score of 74-58 in the Wisconsin Intercollegiate Athletic Conference (WIAC) championship on March 5 in the Kolf Sports Center.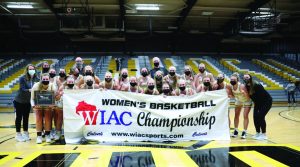 The win was arguably the greatest group effort that UWO had seen all year with guards Leah Porath (17 points), Jenna Jorgensen (15 points), Julia Silloway (14 points) and forward Nikki Arneson (11 points) all scoring in double figures in the win.
This group effort contrasted the two dominant performances by Porath, who scored 30 points in a 79-59 win against UW-River Falls on March 1 and a career-high/school-record 35 points in UWO's 67-59 win over UW-La Crosse on March 3 to advance to the championship game.
"Leah carried us to get us [to the WIAC championship], and then we kind of had a team effort offensively on Friday night," head coach Brad Fischer said. "It was very rewarding for me to see so many different contributions. It felt valuable for the team that we had built."
After shooting 10-for-40 (25%) from behind the 3-point line in the first two games of the WIAC tournament, UWO found their groove by shooting 10-for-22 (45%) from beyond the arc against UWW. This deep-shooting effort was spread throughout the team, as five different players contributed for the team.
"Five different people hit threes in the third quarter when we pulled away. That's the type of team we had built, with multiple threats on the floor and from different classes," Fischer said.
UWW was led by center Johanna Taylor, who scored a game-high 23 points on an 8-for-15 shooting effort while also going 7-for-9 from the free-throw line.
UWW did not enjoy the same success from behind the 3-point line that UWO did, as they went 3-for-18 (16%) from beyond the arc.
In Fischer's nine years as head coach of the team, this was his sixth time coaching a team to a WIAC championship. He not only appreciates the success that he has been able to see as the head coach, but he gives credit to alumni who consistently support the team on social media.
"When I started, I was hoping that I could help build a program that could get to one [WIAC championship] and get a trophy, and kind of turn things around," Fischer said. "When you look at the track record now, it's just become a habit. I'm super proud of the legacy that all of our alumni have built. The girls that I coached in my first couple of years here are some of the most vocal in support of the girls that are still playing now, and that's a great feeling."
Among all of the players on the UWO roster, Karsyn Rueth is the only one, as one now, who will not be returning. Rueth had seven points while going 3-for-5 from the field and 1-for-2 from behind the three point line. Reuth, a traditional center, allowed UWO to spread the floor and alter their offense since she was able to shoot 37% on the year from beyond the arc.
"I am so happy that she got to go out like this. We couldn't have done it without her. Having a post player who can shoot threes like she can with her quick release allowed us to start looking at playing five out as an offense," Fischer said.
Before the WIAC announced that winter sports would happen, there was a possibility that Reuth wouldn't even be playing with the team if no games were to take place this year. Reuth works multiple shifts a week at an assisted living facility, and she didn't see the benefit of playing basketball during her senior year if there wasn't going to be any games.
After a coach-player conversation, Fischer asked his senior center to wait until an announcement was made before making any playing decisions.
"When we didn't know if we were going to play games in December, she wasn't sure if she'd be playing for us," Fischer said. "I just tried to tell her that we should just do it until we know what's happening. There's no way we [could] win this without her, and I'm so glad that she stuck with it."
With all other players being expected to return to the team next year, Fischer said he has his eyes set on a final four appearance. He believes that this team has the players needed in order to make a deep run in the NCAA tournament.
He also said he expects this team to be hungry after making it to the sweet 16 round of the tournament last year before COVID-19 canceled it and after not being able to have a national tournament this year.
"We have some unfinished business from the last two years. Last year we didn't get a chance to finish the [NCAA] tournament, and this year we didn't get a chance to play," Fischer said. "We got to cut nets and keep streaks going and things like that, but we have bigger goals that we want to accomplish. We saw the guys win the national title a few years ago, and we're hungry to see if we can make a run at that."