Wisconsin suspends Johnson & Johnson vaccine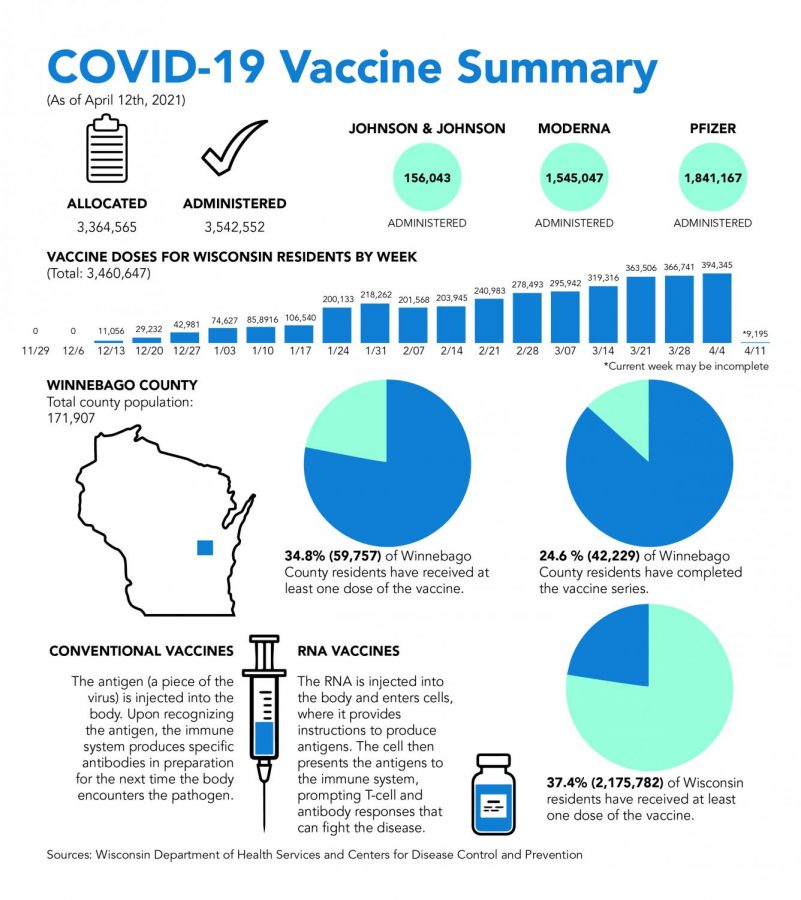 Wisconsin is temporarily suspending the single-dose Johnson & Johnson (J&J) COVID-19 vaccine after six cases of a "rare and severe" type of blood clot were reported in the U.S.
This comes after the Centers for Disease Control and Prevention (CDC) and the Food and Drug Administration (FDA) recommended a pause in the J&J vaccine Tuesday.
"This action is really focused on increasing safety and making sure we know how many of these cases are actually out in the nation," Wisconsin Department of Health Services (DHS) Deputy Secretary Julie Willems Van Dijk said.
Officials are pausing the J&J vaccine to assess if any more cases of the blood clot have been found and prepare healthcare providers for treating them if they occur.
"This is a pause, not the end of J&J," Van Dijk said at a press conference Tuesday. "And we're really hopeful that it will be a fairly short pause."
All six cases of the blood clot occurred among women between the ages of 18 and 48 with symptoms occurring 6 to 13 days after vaccination. No cases of the rare blood clot have been identified in Wisconsin.
Adverse side effects of the J&J vaccine include severe headache, leg pain, abdominal pain, shortness of breath or new vision problems. These are all signs that could indicate a blood clot forming.
Van Dijk recommended that individuals who had already received the J&J vaccine and experience these issues within three weeks of getting the shot contact their health care provider.
Flu-like symptoms, such as fever, body aches, chills and a mild headache are common in the 24 to 48 hours after the vaccine.
"If you've received the [J&J] vaccine over a month ago, don't worry about anything, because these symptoms seem to happen in the one to two to three week period," Van Dijk said.
She said there have been zero reports of these adverse events in the Pfizer and Moderna vaccines.
This blood clotting disorder from J&J is the same one seen in the AstraZeneca COVID-19 vaccine in Europe, Ryan Westergaard, Chief Medical Officer for the state's Bureau of Communicable Diseases, said.
Cases of the rare blood clot were identified using the CDC's Vaccine Adverse Event Reporting System (VAERS) which accepts and analyzes reports of adverse side effects after a person has received a vaccination.
Anyone who received the COVID-19 vaccine in the last month can sign up to report any adverse side effects at vsafe.cdc.gov.
"It is also important to know that this pause is evidence of our safety protocols working," Van Dijk said.
More than 6.8 million doses of the J&J vaccine have been administered in the U.S. with Wisconsin administering roughly 156,000 doses of the vaccine.
Van Dijk said it may seem like a small number of cases to suspend the vaccine over, but these are very severe cases.
Of the six cases, one person died and one is in critical condition, the FDA said.
Van Dijk said pausing the J&J vaccine will allow officials to review the cases and determine if the vaccine has caused any more cases of the blood clotting disorder.
As of Tuesday, the state has administered roughly 3.5 million doses of the COVID-19 vaccine, with over 1.4 million people having completed their vaccine series.
Everyone in Wisconsin ages 16 and older is currently eligible to get the COVID-19 vaccine at no cost.
UW Oshkosh students can schedule their vaccination appointment at uwosh.edu/titans-return/vaccination/
"Vaccination is the newest tool we have and the newest way to do your part," Van Dijk said. "But please remember to continue doing your part to stop the spread of by washing your hands and physical distancing."