UWO tennis continues to make strides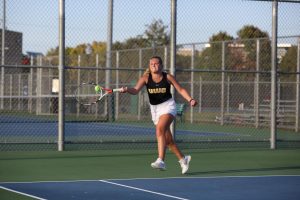 The UW Oshkosh tennis team is still in search of its first win, as it dropped matches against UW-Stevens Point (9-0) on Sept. 29 and UW-River Falls (5-4) on Oct. 2.
UWO's home match against still undefeated UWSP didn't go as planned, but the lack of success against them can be attributed to the team's small roster in 2021.
UWO senior Michelle Spicer said that outside of the factor of fatigue, UWO has had to forfeit a few matches due to not having enough women to cover all of the flight spots.
"We have really been battling," Spicer, UWO's singles and doubles No. 1 competitor, said. "We've had a shortage of girls these last couple weeks and we've only been losing some of the matches 4-5. Also considering we have had to forfeit a couple spots during it."
After falling to UWSP at home, UWO traveled to UW-River Falls to face them in a matchup where the winner would have the opportunity to claim their first match win of the season.
The Titans narrowly lost this matchup 4-5, but UWO had some notable performances to take away from the defeat.
Spicer defeated UWRF player Kailey Courteau 6-1, 6-1, Alysa Pattee took down Alexis Budzinski 6-2, 6-1, Jenna Nolde took down Chloe Struss 6-3, 6-1 and Nolde and Spicer gave UWO its only doubles victory when they defeated Courteau and Struss 8-2.
Despite the losses, Spicer said that Jarrod Camerota, UWO's new tennis coach, emphasizes the importance of refining one's skill to improve their on-court performance. With that being said, Spicer also stated that supporting one another to bring out the team aspect of tennis is crucial to UWO's success.
"Honestly, our new coach Jarrod is very good at reminding us that tennis is an individual sport and we compete individually, but we still need to come together as a team," she said. "It influences how your teammates can play and perform."
Spicer leads the team with three match wins in singles and two in doubles with Nolde, and she said that although she didn't always want to be in the No. 1 slot, she is able to embrace the role.
"I am in a better position than I was last year," Spicer said. "Playing No. 1 hasn't always been what I wanted to do but, I think I am handling it well this year."
Among some other singles leaders are Pattee with a 2-2 record, Nolde with a 2-3 record and Stitt with a 2-3 record.
Other doubles leaders include the duo of Nolde and Pattee with a 1-2 record and Angie Carini and Stitt with a 1-4 record.
With three of the first five Titan losses being by 5-4 nail-biters, Spicer said that the team has stayed close and supportive throughout it all.
"Our biggest strength is that we persevere through everything and are still able to come together as a team," she said.
UWO will attempt to grab their first team win of the season and snap their five match losing streak at Ripon College on Oct. 7 with a start time of 5 p.m.