Titans shut out Pioneers in double OT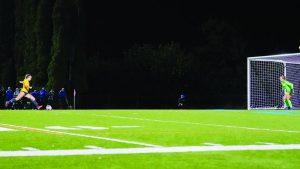 On Saturday Oct. 16t, the UW Oshkosh Women's soccer team defeated UW-Platteville in double overtime 1-0. Throughout regulation, both teams were deadlocked although UWO lead in shots 13-10 and forced eight Platteville saves. The Titans won the game in the second overtime period after a Rylie Kaufmann penalty kick. Forward Mallory Knight was fouled inside the penalty box in the 101st minute to set up the penalty kick. Kaufmann now has scored on all three of her penalty kicks attempts this year and scored her second match-winning goal of the season. UWO had 16 shots in the game, including four from Knight and three from Kaufmann. Titan goalkeeper Erin Toomey saved two shots and has six clean sheets while only allowing seven goals in 1,103 minutes played this season.
After the game, Kaufmann opened up about the game winning goal. Kaufmann said, "my teammate Mallory Knight worked hard to get the ball past [a Platteville defender]. Mal got taken out in the box which led to the penalty kick. I then ran over by Mal to make sure she was okay and to help her up. Since she was the one who drew the foul, it was her penalty kick to take so I gave her some encouragement saying, 'you got this, it's all yours.' She then said to me, 'no I don't want it, you got it.' After I made sure she didn't want to take it, I grabbed the ball and set it up on the PK spot. As I waited for the ref to get everyone else set, I just kept staring at the ball not giving the goalie a chance to try and intimidate me. The ref blew his whistle, I took a deep breath then calmly and collectively struck the ball into the back of the net. It was double overtime so golden goal ends the game, so my PK ended it. My teammates and I were so excited. We all celebrated! I have put away two PKs in two other games, which has allowed my team to trust me to put the ball in the back of the net in a nerve-racking situation. It means a lot to me that my team trusts me to do so."
The Titans improved to 11-2-1 (4-0 in Wisconsin Intercollegiate Athletic Conference play) and share first place in the WIAC with UW-La Crosse, who is also 4-0 in WIAC play. UW-Platteville fell to 7-3-3 (0-3-1) and is seventh in the WIAC. The match was the 28th between the two teams and UWO leads the series 23-4-1. The Titans will play UW-La Crosse in a battle between the top two teams in the WIAC on Saturday Oct. 23 for Homecoming. The game will be at J.J. Keller Field at Titan Stadium at 7:00 p.m.