G League president impressed with Herd
Although the Wisconsin Herd have struggled this season in the NBA G League's Eastern Conference, league president Shareef Abdur-Rahim is impressed with the organization.
Abdur-Rahim, who attended his first ever Herd game Jan. 18, said he is thrilled with the way the team supports the community.
"Oshkosh as a franchise is great," Abdur-Rahim said. "The community is awesome and the way the town supports the city is really top notch for a basketball club."
Abdur-Rahim was on hand to witness the largest crowd in Herd franchise history, as 4,138 fans packed inside the Oshkosh Arena to watch Wisconsin take down the Westchester Knicks 127-118.
Abdur-Rahim said that the proximity of Oshkosh to Milwaukee, as well as the connection between the Herd and Bucks, make the franchise valuable for developing players for the NBA.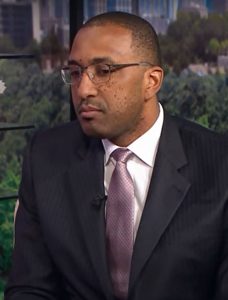 "The league, and every team can take notes from the example here in Oshkosh," Abdur-Rahim said. "There's a lot of great young players like (Sandro) Mamukelashvili, Rob Edwards and Jordan Bone that will continue to get better with the facilities available here."
According to the league president, the competition and level of play in the G League continues to increase year after year thanks to the connection the league has to the NBA. One of these connections is the NBA G League Ignite, a team in the G League that is designed to be a one-year developmental program for players who wish to skip college basketball and go right to the professional level. The Ignite, made up of both prospects and veteran players, has had six players go on to be drafted into the NBA after playing with the team.
"I think the G League Ignite has been a great addition," Abdur-Rahim said. "It gives talented young players an opportunity to get a year or two years before they enter the NBA. I also think it gives scouts the opportunity to see players and get to know players."
One of the most well-known examples of the advantages of the G League Ignite is MarJon Beauchamp, who played for the Ignite during the 2021-22 season before being drafted by the Milwaukee Bucks in the 2022 NBA draft. Beauchamp joined the Ignite after a season at Yakima Valley College and averaged 15.1 points and 7.3 rebounds with the Ignite before being drafted. Beauchamp has found his way back to the G League this season on assignment from the Bucks, playing in three games for the Herd.
"We have some really good examples of guys that became great players out of the G League," Abdur-Rahim said. "In the past we've had guys like Jeremy Lin and Seth Curry and, more recently, Jordan Poole and Jalen Green go to the NBA. You have some really good young players playing now in the G League so I think we will see a superstar come out of this league."
Abdur-Rahim says that he thinks the G League will be expanding in the future.
"We definitely want to expand because we have two NBA franchises that don't have G League affiliates," he said. "Portland and Phoenix don't have G League teams, so we would love to expand to those areas."
Abdur-Rahim, born in Marietta, Georgia, played 12 seasons in the NBA before becoming president of the G League in 2018, taking over for Malcolm Turner who stepped down to become the athletic director at Vanderbilt University.
Abdur-Rahim said it took a little bit of luck to be in the right place at the right time to be named G League president.
"It wasn't until I retired, when I was done playing in the league and working for different organizations that I realised this was something I wanted to pursue," he said. "More and more I was around the business of sports and that kind of ignited me to want more."
Abdur-Rahim was named Mr. Basketball in back-to-back seasons while playing for Joseph Wheeler High School in Georgia, and averaged 31 points, 12.4 rebounds and four blocks per game as a senior. He went on to attend the University of California, Berkeley where he played just one season. Abdur-Rahim averaged 21.1 points and 8.4 rebounds per game while being named Pacific 10 Conference (Pac-10) Freshman of the Year in 1996. He was also the first freshman in Pac-10 history to win Conference Player of the Year, and set multiple school records in his freshman season before declaring for the NBA draft in 1996.
In the 1996 draft, Abdur-Rahim was selected third overall by the Vancouver Grizzlies, the very first draft pick for the franchise that played its first season in 1995. Abdur-Rahim went on to play five seasons with the Grizzlies, and was named to the NBA All-Rookie First Team in 1997. He averaged 20.8 points and 8.2 rebounds a game in 375 games with the Grizzlies and led the scoring every year he played in Vancouver.
"Playing for Vancouver was great," Abdur-Rahim said. "It was a great opportunity to be a part of a new franchise, so it was really cool to be part of starting basketball in a new country."
Despite the efforts of Abdur-Rahim, Vancouver remained at the bottom of the Midwestern Division, never finishing better than sixth place. The Vancouver franchise is known for being historically bad, finishing with less than 20 wins for four straight seasons.
Abdur-Rahim said it's hard to say if the NBA would go back to Vancouver.
"There's a lot of ifs, but if the league expands, I hope that's one of the cities that the league chooses," he said. "I think that Vancouver's a great city and there's a lot of passionate fans there so the league should continue to have basketball in that area."
Abdur-Rahim was traded in 2001 to the Atlanta Hawks, the same year that Vancouver relocated to Memphis, Tennessee, following bad attendance numbers and the weakening of the Canadian dollar.
"That was fun, going to Atlanta," Abdur-Rahim said. "I went to college in California, which was far away from home, I was drafted to Vancouver, which was far away, so at some point in my career to be playing in my hometown with my family, that was special."
Abdur-Rahim played parts of three seasons with the Hawks, averaging 20.4 points and 8.9 rebounds per game and he made his only career All-Star appearance in 2002 with Atlanta. Once again, Abdur-Rahim was on a struggling team that missed the playoffs in all three seasons he was a part of. Midway through the 2003-04 season, he was traded to the Portland Trail Blazers where he played for two seasons. Abdur-Rahim's numbers started to decline and he was traded to the Sacramento Kings in 2005. He played his final three seasons with the Kings and averaged 10.7 points and 3.4 rebounds a game.
After retiring from the NBA in 2008 due to persistent knee problems, the Kings hired Abdur-Rahim into their coaching staff. After two years as an assistant coach with the franchise, Sacramento named Abdur-Rahim as assistant general manager in 2010, a position he held for four years.
Abdur-Rahim said his greatest accomplishment as a player was winning the gold medal at the 2000 Olympics in Sydney, Australia. He was selected as a replacement for an injured Grant Hill and averaged 6.4 points a game on a team that included NBA legends Vince Carter, Gary Payton and Ray Allen. In the group stage, the Americans went a perfect 5-0 before taking down Russia, Lithuania and France to claim the gold medal.
"That was like a dream come true, winning the 2000 gold medal," Abdur-Rahim said. "Making it to the NBA and national championships was a goal of mine and I wasn't able to do that, so winning the gold medal was awesome."
In his five years as president of the NBA G League, Abdur-Rahim said he's loved every second.
"I've enjoyed being able to come to games," he said. "It's a good balance of challenges, like how to continue to make the G League better while still being able to watch games and be around players.