Students taught school shooting safety measures
By February 2023, there had been 52 mass shootings in America; six of those were school shootings. 
On Feb. 13, a gunman open fired on the Michigan State University campus killing three and critically injuring five others. 
In the wake of the active shooting at MSU, UW Oshkosh Chancellor Andrew Leavitt released a statement to the UWO community. 
"There is no greater responsibility I have than for the safety of our students, faculty, staff members and university guests," Leavitt wrote. "Know that we have built and supported a multilayered public safety system at UWO that provides each of us with education and tools so that we may look out for ourselves and one another."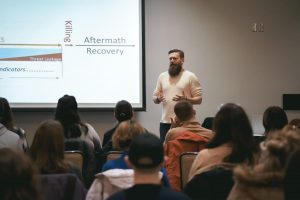 Chief of the UWO police department Chris Tarmann and associate professor Joseph Peterson have been working together to put on "Active Threat Preparedness" training sessions for about nine years.
The sessions aim to arm students, staff and faculty with the knowledge to prevent possible threats from evolving into active shooter events. 
And, in the worst case scenario, they will help students know how to best act in a way that will lead to their survival if a shooting does occur. 
These training sessions are open and welcoming to everyone, regardless of where they stand politically. 
"I try not to get involved in the politics of it," Peterson said. "What we're trying to do on campus is focus just on safety, because you're not going to get anybody convinced to do anything if you are in politics." 
Peterson was a graduate student teaching at Northern Illinois University when a gunman entered and opened fire into the lecture hall. 
The shooting left five students dead and 21 injured. Peterson was among the injured. 
"If someone were to find themselves in that position, I don't want that to be the first time they've thought about 'what do I do?'" Peterson said. 
Peterson and Tarmann want to help make the campus community less reactive and more proactive in the event of an active threat. 
"We want people to think about 'what would I do in this situation?' and kind of roleplay a few things in their mind," Peterson said. "What we can't do is sit down and tell somebody here's exactly what you need to do because there's the unknown."
The goal is to make people more aware of their surroundings. Peterson recommends always taking a simple survey of the room you're in to map out where the exits are. 
"That's the kind of stuff we want people to start doing because that can make the difference between life and death," Peterson said. 
Tarmann wants to make it clear that UWO is not afraid to step into a threatening situation to evaluate what they can do to improve the safety of life on campus. 
"We step into (a threat) and figure out how to grow our people. What if something like that were to happen here?" Tarmann said. "Do we have the right relationships? Are we talking to the right people?" 
When doing this kind of evaluation, Tarmann often asks himself if they have participated in the right kind of training. 
"I think we should be leading in this area so I asked to go to some (active threat) training," Tarmann said. "My whole intent was to bring it back here and figure out how to grow a program that (gives) our community members better preparation, but also gives our cops the skills necessary to respond and manage these situations properly."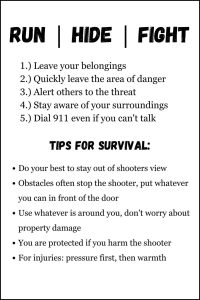 After hours of training and group workshops, Tarmann believes the UWOPD has a good foundational understanding of how to respond to active threats. 
As the police chief, Tarmann thinks about the prospect of an active threat situation often. 
"I think about it probably more frequently than most people do," Tarmann said. "Not because maybe the reason that people would think … even when I was captain, I thought about it enough because I was so involved in it."
Tarmann said that thinking about prospective threat events is part of his responsibility as the police chief.
"It's my responsibility as chief person in charge of safety to be thinking about these things at a pretty regular interval so that I (don't become) complacent," Tarmann said. "Because that's where that mindset of 'it's not going to happen here' comes in." 
Tarmann and Peterson mutually agree that the goal of this training is prevention over anything else. 
"It's prevention 100%," Tarmann said. "Real police work happens when you're not called for service."
In a country where news is seemingly flooded with mass shootings every week, it's common to feel anxiety about an active threat situation. 
"Keep in mind, there are millions of ways bad things can happen," Peterson said. "Try to keep things in some kind of perspective."
Peterson emphasizes that at the end of the day, the best advice he has is to stay aware of your surroundings and where you are in proximity to other people. 
"Remember that even if somebody's trying to hurt you, your own actions can get you out of that," Peterson said.