The Astronomers go all in
With over 13,000 monthly listeners on Spotify, Ben Baker and Michael Stensland's pop duo "The Astronomers" is likely one of the most popular music groups from UW Oshkosh.
Baker and Stensland have been performing music since the sixth grade when they were in jazz band together. During high school, the two performed with other friends in a cover band, and most recently, they formed The Astronomers in early 2019.
Baker had been doing music production on his own for several years and was getting sick of going it alone.
"I was like 'I know someone who would definitely want to do it with me,' so I was like 'Hey Mike,'" Baker said. "I was facetiming him because I went to Platteville last year and I was like 'Hey, how would you like to just form this group with me?' and he was just like 'Yes.'"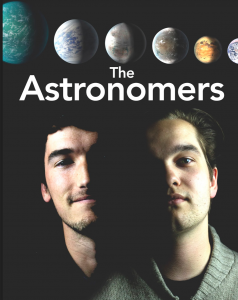 Getting an emphatic "yes" from Stensland was simple, but a long-distance musical relationship was a much more difficult challenge.
"It was definitely really hard because it was just a lot of facetiming and just trying to figure out details," Baker said. "It's really hard to collaborate over FaceTime because it's just a different vibe, but I don't know, once it got to May and we were out of school we could do it every day, and we started to get the ball rolling."
Baker does a majority of the music production for the group, and Stensland writes lyrics for production.
"Every song is different. There's a different story behind each song," Baker said.
"Sometimes we write a song first and then I go and produce it. Sometimes I'll text Mike, I'll be like 'Hey, check out this demo I just made,' and he'll write to it, so a lot of it is different and there's no set process that we have set in stone."
The group takes inspiration from artists like Chelsea Cutler, "The Chainsmokers", John Bellion, and "Two Friends." They also like to collaborate with other artists, embodying the new wave of creation fueled by the connectivity made possible by the internet.
"It just keeps it interesting for us and allows us to branch off with other ideas," Stensland said. "So sometimes it ends up being a collab project."
The Astronomers have used internet music communities to grow and learn from collaborations with other artists to getting on Skype calls to learn from big-time producers.
Baker had been doing music production for a few years when he and Stensland formed The Astronomers.
"The first year I just wasn't really serious about it — and then two years in I just started posting stuff little by little and getting better and better," Baker said.
Baker began posting instrumentals he produced on YouTube for gaming communities in 2018. One day in February 2018, he left a comment on a "Kid Indigo" video.
"I was like, 'Hey you have a great voice, we should work together sometime,' and his manager, Woods Entertainment, saw that and I got an email the next day saying 'Hey, we listened to your stuff and we like it. Let's get on a call.'"
Since then, their relationship with Woods Entertainment Group has been highly beneficial to the group.
"It's been really, really nice, like just getting some insight on how things work that I'd have never known if we didn't have a manager," Baker said.
"It's really paid off on our end, just kinda of helping get our sound out there," Stensland said. "It's a lot of fun. It's just crazy, honestly, just talking about it."
After The Astronomers released their first track, "All In," their monthly listeners on Spotify skyrocketed to 25,000. The taste of success has inspired them to keep creating more and more music. "All In" has over a 100,000 listens.
"It's addicting," Baker said of the reaction they've seen to their music. "It's so much fun."
"It's crazy because when we released 'All In,' which was out first song, it got up to like 25,000 monthly listeners, and so it's just cool to see our songs get put on playlists."
"We've got a lot of projects in the works. We just got in contact with this artist named Bronwyn Silk who's originally from La Crosse but is in LA now, so we're trying to get vocals done with her and get that track probably done by January," Baker said.
The group is currently working on a song collaborating with Bronwyn Silk, another Wisconsin native. The Astronomers said that listeners can expect a new single shortly after New Year's, on January 11.