Oshkosh native ranked as top 10 NBA prospect
Oshkosh native Tyrese Haliburton, who is currently the point guard of the Iowa State University basketball team, is being projected as the seventh overall pick in the 2020 NBA draft by CBS Sports.
Although Haliburton is largely considered a top NBA draft pick, few but Haliburton himself could have foreseen his success.
According to Jonathan Tjarks of The Ringer, Tyrese was only a three star recruit coming out of high school, the only schools from major conferences that recruited Haliburton besides ISU were Minnesota, Nebraska and Cincinnati.
"He's actually always been the underdog," Tyrese's mother Brenda Haliburton said. "He will probably continue to be only because he's never been the scorer, that stuff has never been important to him. I've always just supported him and told him to be true to who he is."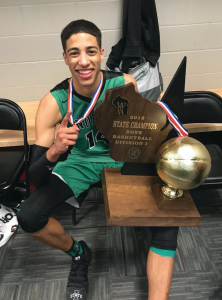 It didn't take long for Haliburton to defy expectations; in only his 10th game as a Cyclone, Haliburton broke ISU's single game assist record by recording 17.
"At this point I don't really think I'm much of a secret anymore," Tyrese Haliburton said. "I feel like if people haven't woken up by now they will very soon. I've always been doubted my whole life, but it's not a bad thing, that's just how my journey is."
On Feb. 8, Haliburton's journey took another turn as he suffered a left wrist fracture, ending his season.
However, Haliburton has found ways to remain positive while he is unable to compete on the court.
"Having to sit there and watch practices, it's frustrating," Tyrese said. "But at the same time I've found a new love for the game. I fell in love with film study, and I have a different view of the game, so that definitely helps."
Haliburton is eligible to enter the 2020 NBA draft, but has yet to make a decision if he will enter it, or return for his junior year at ISU.
"When that time comes at the end of the season we'll talk about it," Tyrese said. "But for now I haven't really put much thought into it."
Although it took the rest of the country a little longer to recognize Haliburton's talent, the Oshkosh community has believed in Tyrese since he was playing for the Oshkosh North High School basketball team.
Haliburton said he still looks back on his time as a Spartan, especially their 2018 state championship, fondly and that he still is close with his Oshkosh teammates.
"That feeling was unmatched," Tyrese said. "Everything from the final buzzer going off to the little party we had at the hotel, I feel those are memories I'll never forget. But outside of the state championship, I'd probably say the bond, the practices, the friendships I've made with those guys. I stay in touch with almost everybody from that time so it definitely brought us close, and it's something I'll never be able to forget."
The connections and traditions Haliburton made with his high school teammates still carry through to his collegiate career.
"Pregame, a lot of guys like to listen to a bunch of hype hip-hop and stuff," Tyrese said. "Which, I do, but probably my favorite pregame song is 'Come Thru' by Drake; it's like an R&B song. In high school me and Gout Deng and Lovell Washington, we used to drive back from team meetings before games and blast that song, so it just has a memory for me and that's been my pregame song ever since."
Brenda said the support for Tyrese from the Oshkosh community has been great.
"Everywhere you go now you see Iowa State stuff," Brenda said. "That wasn't the case before."
As a Division I college athlete, Tyrese has gained inspiration from some of his favorite pros in the NBA.
"For me, he's [Lebron's] been the greatest player I've ever witnessed," Tyrese said. "And then being the point guard I appreciate a lot of the greats that I watch play. Chris Paul, I think he's probably the best point guard I've been able to watch. Steph, Kyrie, I always appreciate what the guys do at that position, because I know what it's like to be the point."
Tyrese takes the responsibility of his position of point guard seriously, he believes a good relationship with his teammates is essential to on court success.
"Being the point guard I feel like I have to have a good relationship with everybody," Tyrese said. "I feel like I'm really close with everybody."
Whether Tyrese decides to enter the 2020 NBA draft or return to ISU, he plans to play with the same approach he always brings to the court.
"Versatile," Tyrese said. "I feel like I can do a lot of everything, I can play multiple positions, I can guard multiple positions. Fun, I'm always having fun when I play basketball, I try to make it as fun as possible, I put my own flare to it. Tenacious, I just think I'm going to play hard 24/7, try not to take plays off."