The Harvest Room grows greens and herbs by the pound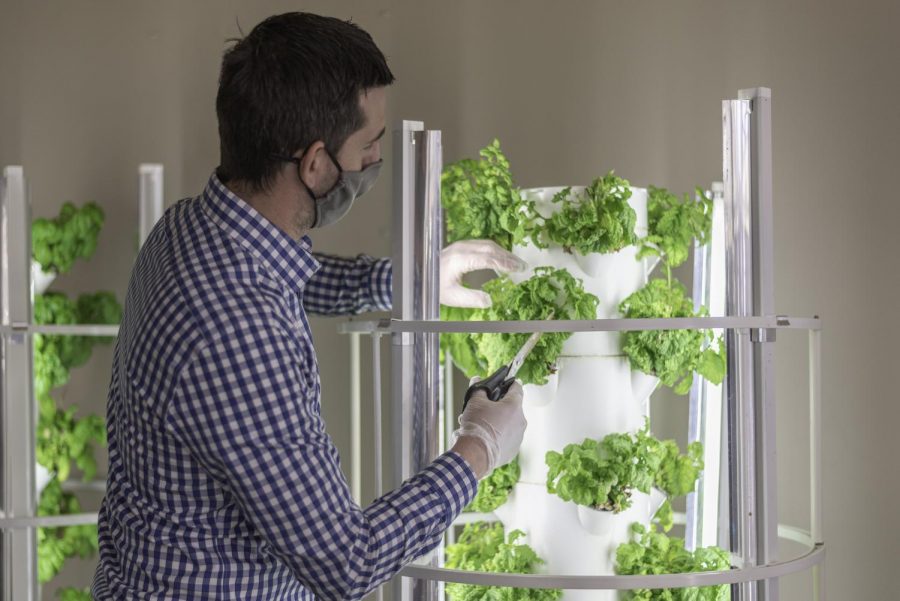 UW Oshkosh's Reeve Union dining room contains a futuristic-like garden that could lead to a more sustainable and environmentally friendly way of growing produce on-campus.
The "Tower Gardens" was installed in a room located next to Clash Burger by UWO Assistant Dining Director Brian Warzynski in July 2019.
"The purpose was to grow fresh produce on campus," Warzynski said. "We have multiple types of lettuce, basil and parsley growing."
The gardens include nine Flex Farms and three Tower Gardens, which are advanced agricultural systems that stand vertically. Each Flex Farm can hold up to 288 plants, while the Tower Gardens holds 28 plants.
With the use of vertical agricultural technology, UWO dining services is able to produce 200 pounds of lettuce and 15 pounds of herbs per month.
"In a normal year, that is about 50% of the need for grains and greens," Warzynski said.
The herbs are used at Blackhawk Commons and in the basil mayo at Titan Underground.
According to Fork Farm, the company that designed Flex Farms, these agricultural systems are made of recyclable plastics and use an advanced form of hydroponics. Hydroponics is the practice of growing plants without using soil.
"Instead, you add nutrients directly into the water supply. Liquid nutrients enable the plants to spend less time extracting food from the soil and more time growing great big delicious leaves and fruit," according to Fork Farms.
Flex Farms and Tower Gardens provide a sustainable and environmentally friendly way of producing large amounts of fresh produce.
Flex Farms produce 20 pounds of vegetables per 28-day plant cycle, while reducing food transportation costs, consuming 97% less water, and using less space than traditional gardening and agricultural practices.
"Environmental benefits include less carbon footprint from the travel of lettuce that would normally come from Arizona and energy efficiency by only using 50 gallons of water a week and utilizing LED bulbs," Warzynski said.
In the future, Warzynski said he believes that the garden has the potential to expand through the addition of three more Flex Farms and by growing microgreens, which are younger vegetables that contain a high abundance of nutrients.