UWO celebrates 150 years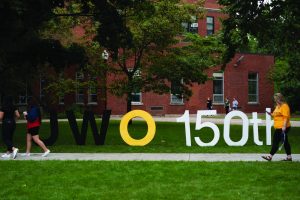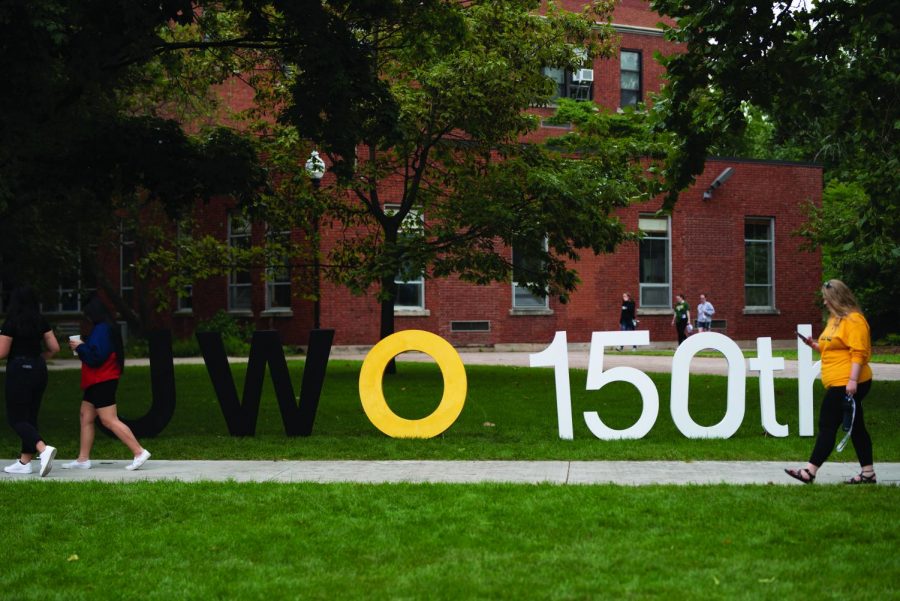 UW Oshkosh celebrated 150 years of being an educational institution last weekend by hosting a variety of events outdoors.
UWO, originally called the Oshkosh Normal School in 1871, threw a sesquicentennial celebration between Dempsey Hall and the Halsey Science Center on Sunday from 11 a.m. to 3 p.m. that included live band performances, trivia, free food, food trucks and much more.
Leading up to Sunday, Chancellor Andrew Leavitt was looking ahead to a day of learning and enjoyable activities for all students.
"It will be a very informative and educational experience, and at the same time [it will be] a lot of fun," Leavitt, who took over as the UWO Chancellor in 2014, said. "There are a lot of bands, music, games, and it's just going to be a great time to be outside and amongst other Titans."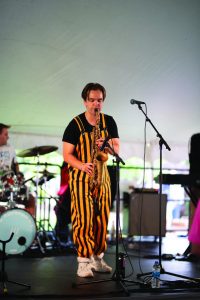 Among the live bands performing on the main stage, 'The Astronomers' performed from 12 p.m. – 12:45 p.m. and 'The Jazz Orgy' performed from 1:45 – 3 p.m. after a Special 150th anniversary took the stage from 1 p.m. – 1:30 p.m.
On the side stage, Ken Yerkes performed from 11 a.m. – 11:45 a.m. Carson Blake's performance from noon – 1 p.m. was canceled and 'The Present Age' performed from 2:15 p.m. – 3 p.m.
Aftershock Smokers, Any Street Grill, Dante's Inferno, Ong's Food Truck and Oly's Pepperoni Cannoli all provided food truck services.
A small petting zoo, consisting of a snake that was allowed to be passed around to nearby spectators, was sponsored by the UWO cross country team.
Among the free food provided was a mix of hot dogs, burgers, a variety of chips and soda and water as well.
There were also various booths giving out prizes for those who got the correct answers to trivia questions about UWO's history.
As the 150th celebration arrived, Leavitt reflected on UWO's history as one that constantly emphasized the importance of progress and adjusting with the times.
"The history of UW Oshkosh over the last 150 years is progressive in the sense that I think this has always been a place of innovation from our very founding," he said. "We are the first and only university in the country who runs a head start program."
UWO archivist Joshua Ranger stated that the university has come a long way dating back to its roots as the Oshkosh Normal School for teachers.
"I am sure those early faculty would be amazed at how much we've grown in our mission since those early days. "The point of the Normals was to train people to become teachers in K-12th grades and rural one room schools," Ranger said. "In 1951, we started offering bachelor's degrees in things beyond education and then soon we were adding other professional programs like business and nursing. [We have come} a long way from a small Normal school."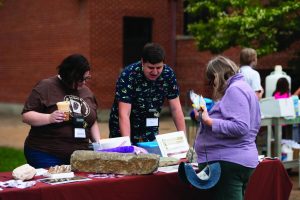 As Leavitt reflected on the current status of the 150-year-old university, he identified areas that needed growth in order to assure that the university, and those attending it, have a more prosperous future.
In terms of the future, the question I always ask is 'what kind of a university does this region need and deserve'," he said. "I think that we need to continue that tradition of progressiveness and innovation that has taken us through the first 150 years, so that's what I hope for the second 150 years."