Largest pile-up in WI history
One person died and 71 people were injured in a 131-car pileup on Highway 41 in Neenah on Sunday, according to a release from the Menasha Police Department.
Andrew Schefelker, an Iola-Scandinavia School District science teacher, was the only fatality of the pileup.
Schefelker was a research assistant at UW Oshkosh before earning his teaching certificate in 2018.
Schefelker also substitute taught at Lourdes Academy before working for the Iola-Scandinavia School District.
Lourdes Principal David Mikesell sent an email to parents and students explaining that counseling services are available and asked parents to talk to their children about the loss.The Menasha Police Department's release featured a map with pins representing the damage done from the pileup ranging from totaled vehicles to a loss of life.
"The difference being the degree of change, grief and tragedy involved," the release said. "Not one of the people behind those pins thought their lives would be impacted when they started their day. Now they cope, manage or pick up the pieces of their lives."
UWO Sports Information Director Kennan Timm said he was in the pileup. He was driving from his home in De Pere. He was between Breezewood Lane and Highway G when the blowing snow made it impossible to see.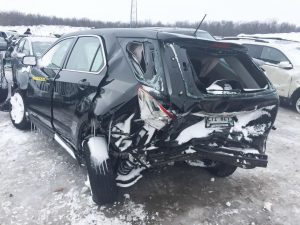 "Once you hit that whiteout area there's just cars," Timm said. "There was a car in front of me, and you couldn't do anything. You just had to hit it, which I did. So, then I got pinned up in the median, in the center median in the concrete. Then another car hit me from behind and pushed me up at an angle. Then another car hit me from the side, and I got hit about three to four more times."
Timm said he tried to climb out of his car when he was pinned between cars and the median because he had a full tank of gas, and he feared the car would explode.
"So, I get out of the car, I have no idea how I got over the five-foot barrier in the middle of the road," Timm said. "Then a gentleman threw me a shirt to cover up the blood and we walked to the ambulance. Later on, I was taken to St. Elizabeth hospital."
Timm said there were others in his ambulance hurt worse than him.
In my ambulance there was a broken arm, a broken leg, a sore shoulder, a gentleman was complaining about heart problems and then two ladies had facial cuts really bad," Timm said.
Timm said he sustained no broken bones, but his left leg and right hip area are sore. He has minor cuts on his hands and he had a laceration on his head that required eight staples.
"The first responders, everyone there, was very impressive," Timm said. "I don't know how many ambulances they had, but they had their plan. Winnebago County should be commended, and Outagamie County, and all of the hospital staff. They had their plan figured out, about how to deal with this natural disaster, and they did a great job."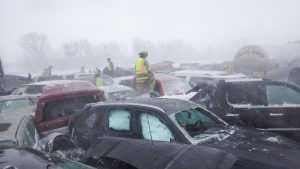 In a Facebook post on Monday, the Winnebago County Sheriff's Office said they are still investigating and assessing damages from the crash.
"Based on the magnitude of this incident, it is taking a significant amount of time to determine the sequence of events and put together the pieces of [the] puzzle," the post said. "As we are able verify details from each vehicle and involved individuals, we will begin releasing vehicles to their owners. The vast majority of the vehicles are a total loss and not drivable."
The Sheriff's Office also tweeted dash camera and body camera footage from the accident. The body camera footage showed a first responder climbing over cars to rescue someone trapped in an SUV.
The body camera footage was accompanied by a quote from Fred Rogers [PBS's Mister Rogers] that said, "When I was a boy and I would see scary things in the news, my mother would say to me, 'Look for the helpers. You will always find people who are helping.'"
The Sheriff's Office said anyone with information regarding the crash should contact their Detective Division by calling (920)-236-7657.