Women's tennis serves up Ws
The UW Oshkosh Women's tennis team swept the competition this week, beating UW-Stevens Point (8-1), St. Norbert College (7-2) and UW-River Falls (9-0), improving its overall record to 5-2.
The team was putting up points throughout the duration of last week's sweep.
Head coach Robert Henshaw said the team is coming together and playing really well. "I'm pleased with our play this week," Henshaw said. "We've really found great chemistry within our doubles lineup, and our teams managed dealing with momentum shifts in order to come out on top in really meaningful matches."
The match against Stevens Point came with few faults and was led by seniors Alyssa Leffler (6-0,6-0) and Samantha Koppa (6-1,6-1) in the singles matches.
Koppa said these blowouts in individual competition can be attributed to the team's self belief and their ability to stick to the coach's instruction from start to finish.
"Our matches went so well because we played confidently and played out game plans that were given by our coach," Koppa said.
By ensuring that the team's strategy stayed intact, the Titans were able to take down Stevens Point for the seventh consecutive time.
In the following matchup against St. Norbert, more confidence was given to the singles players as Oshkosh won two out of the first three doubles matches to start the evening.
Wins by Koppa and junior Kelley Hodyl in doubles competition by a score of 8-4 started the day off strong, ensuring the following UWO players were working with a lead.
Hodyl said the team only continues to grow as the season rolls on.
"The one thing that sticks out to me the most during gameplay was how each doubles team is continuously improving both in their play and partner chemistry," Hodyl said. "I believe that throughout the season it will only get better and help us finish off the season successfully."
To wrap up a rather successful week of tennis, UWO ousted River Falls by not allowing a single match win in the 9-0 shutout on Sunday.
Sophomore Taylor Johnson showed out by claiming two wins, one in a doubles match with junior Lesley Kutnink by a score of 8-3 and one in a 6-0,6-1 singles victory.
Although not apparent in this week's 3-0 showing, Oshkosh still has some areas to work on if they want to see this track of success continue.
Hodyl said one of the main areas of emphasis for her is patience and allowing the correct opportunity to present itself before attacking the opponent.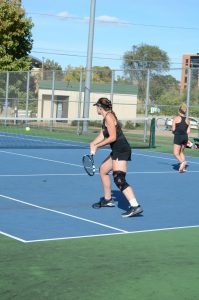 "Personally, I need to work on consistency and being patient with my shots. Too often, I try to end the point right away, which leads me to spraying balls and making a lot of unforced errors," Hodyl said.
Additionally, Henshaw stated that if the team is to encounter a lost game or set in the midst of this hot streak, that he wants them to reset, maintain a calm mindset and find a way to win against all of their opponents.
With all adjustments considered, there is a lot of optimism and excitement surrounding this team. There is a strong belief that this exemplary display of execution day in and day out will be seen far beyond the regular season this year. This team is radiating with confidence as they begin to make a postseason push.
"We will finish our conference dual season within the top 4," said Henshaw. "Once we reach the conference tournament, which counts for two-thirds of the conference championship, we will be real fun to watch. We're limited only by our imagination and belief in ourselves."
Oshkosh will look to extend their winning streak to four matches by stressing repetition and consistency, as Hodyl stated, when they face the Milwaukee School of Engineering on Oct. 9.