Leavitt: UW Oshkosh finances 'OK' but 'not great'
UW Oshkosh is currently "working through a number of scenarios" to formulate a plan for the university moving forward as the coronavirus pandemic continues, Chancellor Andrew Leavitt said at a digital open forum Wednesday.
Leavitt, members of the UWO Emergency Operations Center and university administrators used the forum to update the campus community about initiatives surrounding UWO's response to the COVID-19 pandemic.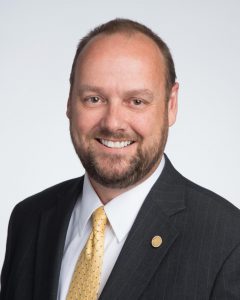 After planning to refund students about $5 million, and looking at enrollment projections for next year, Leavitt says the university is doing "OK," but "not great" financially.
In terms of enrollment, he said university personnel should focus on helping current students return to UWO in the fall.
After looking at current registration numbers from students planning to return next semester, Leavitt said the university isn't far from where it needs to be in terms of retaining students.
"It's very important that if you have contact with students online through these formats in classes," Leavitt said. "You need to encourage them to return in the fall."
Some of the models the university has looked at show that enrollment could be down 12% next year, Leavitt said.
"We still believe that we're going to be able to take that kind of punch and move forward," he said. "It's going to be very difficult to do that."
University Police Lt. Trent Martin, a member of the Emergency Operations Committee, gave the community a look into how the EOC operates and what it's role has been in campus initiatives surrounding COVID-19.
He said the EOC works closely with various state agencies to make recommendations to university leadership.
The EOC is composed of representatives from all over campus. He said the committee usually consists of about 20 representatives from all over campus, but when the pandemic started the EOC expanded to 40 members.
Those 40 members were broken up into subcommittees to examine different areas that would be affected, such as travel, special events, athletics, academics, communications, facilities and volunteers.
"It was important for us that we have representatives from each of those areas on campus here at the table," Martin said.
Kim Langolf, interim director of the Office of Sponsored Programs, said the EOC receives new information on an hourly basis and makes decisions based on that information.
She said the EOC helped form decisions to bring study abroad students home, cancel in person classes for the remainder of the semester and into spring interim, as well as canceling university sponsored events for the remainder of the semester.
"We've never dealt with this before, but we want to make sure that everybody is heard and that if they need things that we're trying to get the things they need to be able to do their job effectively," Langolf said.
UWO has not yet decided whether or not to hold in person classes this summer, but will make a decision "very soon," according to John Koker, provost and vice chancellor of academic affairs.