Oshkosh Ave. Bridge project still on schedule
While businesses and places everywhere are closing due to COVID-19, the Oshkosh Avenue Bridge rehabilitation project has been minimally affected, according to project manager Kurt Peters.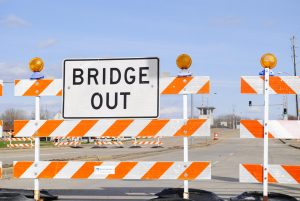 "The COVID-19 pandemic has not had much impact on the project," Peters said in an email. "Other than some additional safety measures being implemented, COVID-19 has not impacted the schedule and only added a very minimal cost to the project."
The bridge, located a few blocks north of the UW Oshkosh campus, had closed near the end of February for scheduled maintenance.
The project includes repairing the surface of the concrete bridge deck and laying epoxy on top, replacing the deteriorating concrete approach slabs and repainting select parts of the bridge.
A project this intensive doesn't happen without a lot of cooperation and organization. Peters said there were a few extra challenges because of the bridge being a lift bridge and the Fox River being a navigational waterway.
"We had to coordinate with the Coast Guard due to [the bridge] being over a navigational waterway," Peters said. "Being that it's a lift bridge required us to do a lot of the work in the winter when there are no boats. That's a bit of a unique feature we have to deal with up here in Wisconsin."
The work over the winter paid off. The bridge opened to boat traffic just a week after the start of Wisconsin's boating season, which began on April 1.
"At this time we have completed all of the work that will impact boat traffic," Peters said. "A lot of that just got completed here this week, so the bridge is now functional. They can lift the bridge again for larger boats and things like that."
Despite the work that has been done, and the work to come, Peters said that the project has gone without a hitch so far.
"The project has gone very smooth," Peters said. "We've had limited changes of what we anticipated, the contractor's been doing a good job and the weather's been cooperating; it's been going quite well."
Before some had to close because of the pandemic, local businesses around the bridge had to advertise alternate routes for their customers to take.
Peters said that those businesses should be able to welcome customers through traditional routes again around the beginning of summer.
He added that the bridge should open around the middle of June.
"Once our work is complete, the roadway will be back open to regular traffic," he said.