Track steps up to the Titan challenge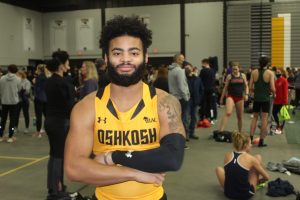 The University of Wisconsin Oshkosh women's and men's track and field teams placed third and first, respectively, at the home meet dubbed "the Titan Challenge" on Saturday.
The meet was the last to be hosted at home for both the men's and women's teams and was incredibly telling of the skills present in both teams.
two records, one longstanding, were broken at the meet. The men's 60 meter dash was beaten by Jaylen Grant with a time of 6.72 seconds. As well, Alexandria Demco had a time of 2:52.85 in the 1,000-meter run, beating out the previous 1991 record by six seconds.
Grant is a junior who specializes as a sprinter. His time in the 60-meter dash equated to a speed of 19.95 mph. He beat two UW Oshkosh records in that single event; one being his previous run that day at 6.78, and the other his freshman teammate Davian Williams who ran in 6.74 seconds.
"My team brings a competitive atmosphere to practice and makes it a team you would like to be a part of," Grant said. When asked about why he talks so much about his team in an event that centers on the individual, he said: "I'm very confident in my abilities so this is a long time coming, but we have conference this week and I'm not trying to celebrate until we get a title. What's on my mind is conference and national titles."
Grant said coach Justin Kinseth is the unspoken hero of the program. He attributes Kinseth to both his own and the teams' successes, and he said that he had plateaued in his events until he became involved with the UWO men's track and field team. The newer and tighter regimen allowed him to grow and develop to be his best as an athlete, he said.
The teams will next compete Friday afternoon at UW-Platteville at the WIAC tournament.