Rising student band releases new EP
Cold Soda Club's lead singer Tyler Maxon, while running late for a scheduled show in Oshkosh, was asked by a band member when he'd be arriving for the gig.
Maxon replied "passing Greenbush," referring to the small town near Plymouth, Wisconsin that he happened to be driving through at the time.
"We're weird, and thought that was hilarious," lead guitarist Trevor Damkot said. "So every time someone is driving past Greenbush it's a band rule to say passing Greenbush in the group message."
Aside from being an inside joke between the band, Cold Soda Club wanted the name of it's new EP, named "Passing Greenbush" to symbolize them moving forward as a group.
"We feel that the phrase 'passing Greenbush' represents how we have moved forward as a band," Damkot said. "To me, the EP represents our band's collective personality."
Bassist Matt Theobald echoed his guitarist's thoughts and said despite the four band members' different music tastes, they can come together to create a unique sound.
"When you listen to our EP you can hear these different styles creating songs that are unique to themselves," Theobald said. "There are songs you'll want to dance to and others you'll want to rock to. The contrast in vibes will allow the listener to understand our band's personality and our individual personalities as well."
The EP was recorded at Paradyme productions in Madison, where Damkot said the guidance of their producers Bill Maynard and Justin Hind made the EP even better than what they expected.
"They do an exceptional job, and we are lucky to have worked with them," Damkot said. "We put a lot of time into this session, though, and really worked to get everything perfect."
Damkot said this EP is the band's best work so far, but they hope to continue building on it.
"Overall, the production quality for this EP is head and shoulders above anything that we've previously done," Damkot said. "We also put more time and thought into the production of it."
The band has been together for about seven years, forming when the four were in high school together. Damkot said their tight-knit dynamic helps bring the most out of their creative process.
"It's great writing music with some of your best friends," Damkot said. "We've been playing together for a long time and definitely have a special musical bond from all the hours of practicing and performing we've done. Our songwriting process is extremely collaborative, and I think that really helps to bring out the best in our songs."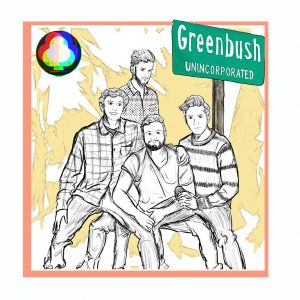 Goebal said finally releasing "Passing Greenbush" is something he and his bandmates have been looking forward to for a very long time.
"Being able to share our music with people is such a cool feeling," Goebal said. "This is something that has been a long time coming, and one of my favorite things is seeing songs come together in practice and in the studio."
Cold Soda Club has been active in the area and on campus while recording the EP, playing multiple shows at The French Quarter and other bars around Oshkosh.
Theobald said the UW Oshkosh community has been extremely welcoming.
"Every time we play in Oshkosh, we meet great new people and also get to catch up with good friends that have been with us for a while now," Theobald said. "Whenever French's calls up, I get excited."
Drummer Lucas Goebal said Oshkosh has been one of many great venues the band has played recently.
"French's is a guaranteed good time," Goebal said. "The crowd there is always super fun, but I can say that about all venues we've played at recently, it's been a really good run lately."
With their rising popularity around the UW Oshkosh campus, Damkot said he hopes they can build on their success.
"We are hoping our EP will spread through the campus community and be heard by many UW Oshkosh students," Damkot said.
Theobald said he only expects more from the band following the EP.
"I'm excited to have something out there that I can proudly point to and say, 'We made that,'" Theobald said. "I feel that since we now know what it's like to fully record, mix and master songs we can only go up from here and really hone our writing process to bring even better stuff next time around."