Copy chief's caffeine-addled hands type thanks to family, friends
My college career began in September 2017. I was fresh out of high school and ready for a change. However, I was a commuter. I knew from the get-go that meeting new people and becoming active on campus from 30 minutes away would be difficult to do.
So, I started off by getting a job on campus. I got hired early in September at University Books & More and the Corner Convenience Store. It was convenient for me as I could walk straight to work after my day's classes that I had already driven over to Oshkosh for.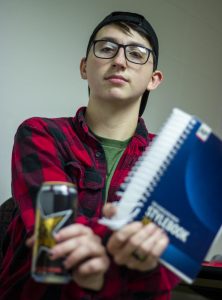 After my first day of work at the C-store though, I had witnessed a car accident on the way home. For some reason, I took that as foreshadowing for how my career at UW Oshkosh was going to go. I had no idea what I wanted to do.
(Nobody was hurt in the accident, by the way. Maybe that meant something too.)
I was actively working and going to class, but something didn't feel right yet. It felt almost exactly like how I functioned in high school in Ripon.
A year passed, and I had finally changed my major from communications to journalism because I preferred writing over speaking.
After COMM111, my confidence in public speaking plummeted.
I knew I always wanted to have a career doing something that allowed me to interact with people and give the community something good and wholesome to think about. I didn't think I could do that with a comm major.
During the Taste of UWO at the beginning of the fall 2018 semester, I came up to The Advance-Titan's table where then-Editor in Chief Calvin Skalet was sitting so nonchalantly. A few of the week's newspapers were strewn about, with a sign-up sheet right in the middle.
Naturally, I signed up. But unfortunately, I didn't hear back until the following spring semester in 2019.
Christina Basken and Nikki Brahm reached out to me to start writing for the A-T. My first story was published on Feb. 28, 2019 about HERstory month.
I hadn't even taken the baseline journalism courses yet, so I had no idea what I was doing. All I knew was that I had to interview at least three people and discuss what happened at the event. It was a mess, but Christina and Nikki met with me again and helped me learn the ropes — and I caught on quickly.
I had applied to be a news editor at the end of fall 2019. Christina and Nikki interviewed myself and a few other students for the position. Though I didn't get the job, they suggested that I work on copy desk. It's the table in the middle of the newsroom where some students sat, read and edited every story before they got published.
That was probably one of the best things that has happened to me in my college career, aside from starting at the A-T to begin with.
Since I began with the A-T, I have written 37 articles with them, gotten two opportunities freelancing for "real" newspapers, garnered skills in news writing and became the Copy Editing Chief in spring 2020.
English classes were never my strongest suit in school, but becoming a journalist has become a way for me to develop a new love for writing that I never had before.
I have nothing else to thank other than my time at the A-T. I've been to Washington, D.C. (for the first time ever) for a newspaper conference with a handful of my A-T friends, met Jim VandeHei, co-founder of Axios and UWO alumnus, and visited Milwaukee with Carter Uslabar and Amber Brockman for a NewsTrain, just to name a couple.
But most importantly, my time at the A-T has taught me to be more confident in what I do.
Whether it's copy editing, writing a banger fluffy feature or a topical news story, I've shown myself a new side of me that I never thought existed.
I've grown as a writer, a speaker and a person. I can now talk interpersonally without having a panic attack, take some decent photographs, send out some killer emails and put together a great story.
However, I have several people to thank for getting me where I am today.
I would like to start by thanking my parents for pushing me to attend UWO despite my pessimistic attitudes leaving high school.
Christina and Nikki, thank you for helping me dissect the block of text I had for my first story and teaching me the inverted pyramid and paraphrase-quote before Vince Filak even did. And thank you for putting me on copy desk.
Filak, thank you for letting me come to cry in your office whenever I was on campus with an existential crisis. I still owe you that case of Diet Coke.
Barb Benish, thank you for being the best adviser there is.
Cody Wiesner, thank you for being the best Copy Chief and walking dictionary/AP Stylebook that I have ever met. I have dozens of colored pens now because of copy desk.
Joe Schulz, thank you for believing in my writing abilities and helping me get my freelancing opportunities with The Oshkosh Herald and The Ripon Commonwealth Press. I can't thank you enough for getting my foot in the door, and I'll miss you jamming out to '80s music in the newsroom until 1 a.m.
My beautiful girlfriend Hailey Vadnais, thank you for being so supportive and my cheerleader when I didn't believe in myself. And thank you for helping me stop my caffeine addiction.
Ryan Phillipson, thank you for being the best boss at the C-store/Bookstore I've ever had, even though I've been there longer than you (we're going to ignore the fact that's going to change soon, though).
Anna Liedtke, Alex Bullock, Mallory Villwock and Noah Abhold, thank you for being the best coworkers at the C-store/Bookstore. I'm going to miss our antics.
Heidi Docter and Kira Moericke, thank you for being banger copy editors.
And Heidi, take next semester as the next Copy Chief in stride. You're gonna crush it.
As I'll be walking out the door of the newsroom on Dec. 8, I'm sure I will probably shed a tear or two behind my mask. I wouldn't have had the opportunity to chase my dreams, or even had the idea of what my dream could look like, if it wasn't for The Advance-Titan.
Thank you.