Copy Chief adorns wizard hat for last time; cries
I joined the revered, award-winning, infamous Advance-Titan back in fall 2019 as a wildly inexperienced copy editor. The only editing experience I had was as a tutor at the Writing Center, which, let me tell you, is nothing like journalistic editing.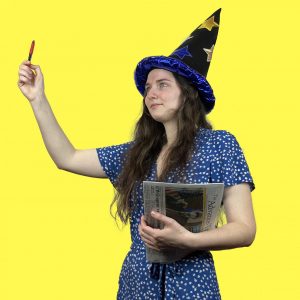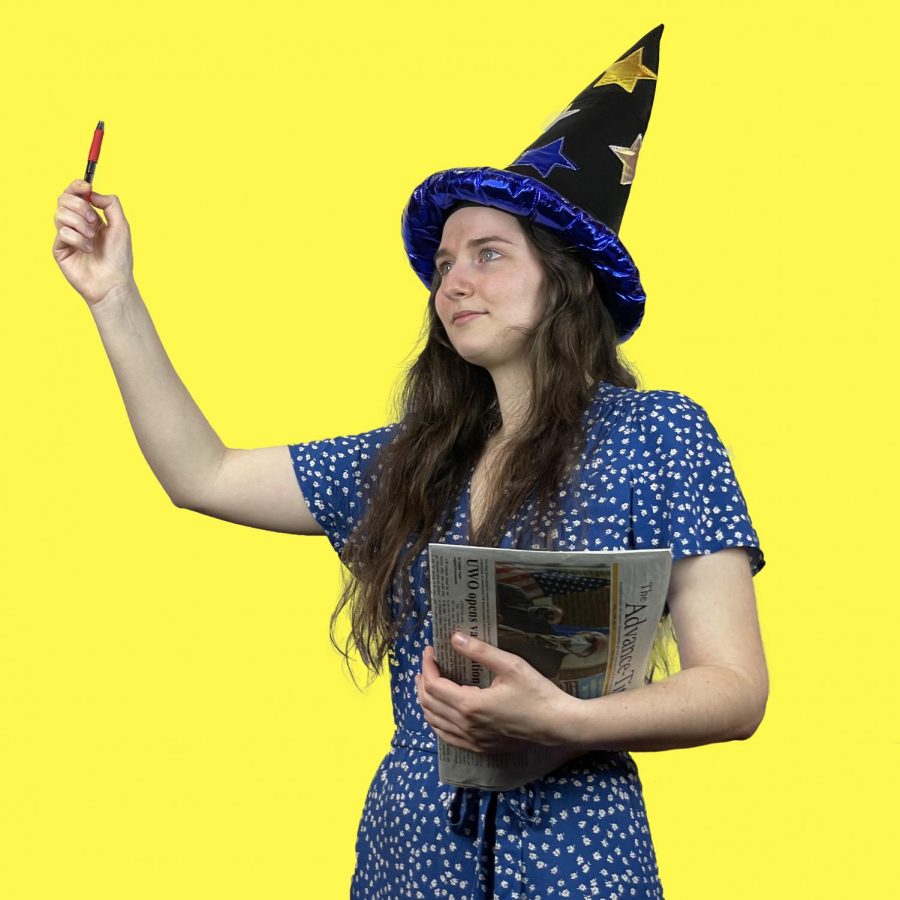 Kaitlyn Scoville, a friend from high school and a copy editor, got me an "in" with the A-T. I had just switched my minor to journalism, and I was looking for a resume booster, so she was kind enough to recommend me to the then-Copy Chief Cody Wiesner.
On my first day at the paper, I had a difficult time orienting myself. Literally. I couldn't find the damn place, partly due to the horribly vague directions from Cody and because it's tucked away in a bleak, deserted corner of Reeve's basement.
But as I walked into the window-less fluorescent room, I was greeted by the strangest but loveliest group of socially awkward caffeine addicts I had ever met.
Cody was a familiar face from the Writing Center. He sat perched upon his swivel chair throne with a blue Pilot G2 in hand and an incredible wealth of (often useless but still fun) information in his head.
Cody was everything a copy chief should aspire to be. He created weekly AP style quizzes and bribed us lowly deskers with candy and a wizard hat to whoever got the highest score. I managed to earn the honorable title of "Copy Wizard" a few times. That will forever be the highlight of my college career.
The following semester, Kaitlyn took over as copy chief and she did a damn fine job. Kaitlyn was dealt a crappy had with the onset of the 'rona, but she did a great job keeping spirits high while the world burned to the ground.
And then she passed the torch – or the power of the Pilot G2 – to me. I still felt like a baby giraffe trying to find its footing, but Kaitlyn took the time to prepare me so I didn't completely burn the A-T office to the ground.
Even though our staff has dwindled and I'm confined to the back corner with just the ghosts of Cody and Kaitlyn cheering me on, our small crew still has the same spirit we did pre-corona.
I'm writing at length about the people I've met through working at the Advance-Titan because that's what will stick with me for years to come. Yes, it's also invaluable work experience and it's a satisfying feeling having your hard work be published, but it's the people that made me want to come back every Tuesday night.
The steady deterioration of our sanity as the night wore on and the stories that arise are what give this little fluorescent cave its soul.
The joy of adorning the wizard hat after getting a perfect score on one of Cody's AP quizzes; the trips up to the C-Store with Kaitlyn and Carter Uslabar to stock up on gummy worms; the game of catch with Cory, Owen, Sophia and Amber; the story of Cory dealing with a broken keyboard and copying and pasting the letter "i" for an entire semester – that's what kept me going.
My most meaningful friendships have been formed within the walls of this shoddy office. Thank you to Carter for always offering a hug during finals and for making me cry (far too often) with your kind cards and letters at the end of each semester.
Thank you to Cody for being the most wonderful, quirky leader a young, clueless journalist could ask for. I never thought the guy torturing me with grammar fun facts and AP quizzes would become one of my best friends.
Thank you to Kaitlyn for getting me in the A-T office in the first place and for setting me up for success as a copy editor. I'm glad both of us only ventured 25 miles away from high school and that college reconnected us.
No I'm not crying. Shut up.
Of course, I also owe my successes to many others. Barb, thank you for being the machine behind the A-T and for the countless sheet cakes you've bought for us. Vincent, you set me up with the skills I needed to succeed at the paper and your lectures were endlessly entertaining. Gleason, thank you for letting me do my multimedia project on mushrooms, and I'm sorry for giggling through your History of Journalism class with Carter.
It's been a wild ride, and it's time to pass the G2 to another deserving soul.
If you or a friend would like to be that soul, don't hesitate to contact the A-T. You will be welcomed with open arms and a sheet cake.