Graduating seniors look back on their time in Greek Life after Greek Awards
Graduating UW Oshkosh Greek Life members are reflecting on their time in philanthropy after the Greek Awards celebrated the dedication of the 11 chapters on Feb. 26.
"Considering I never even considered Greek Life to be an option for me, I would have to say I never expected to become so involved," fourth-year student Jack Liddicoat said. 
Liddicoat is a member of Delta Sigma Phi, previously serving as the vice president of membership development and president. He currently serves as the new member educator for Delta Sigma Phi.
"Ultimately I view myself as someone who wants to see things done 'the right way,' which led me to run for and be elected into the positions I have held," Liddicoat said. "I also credit [my girlfriend] Mattie for motivating me to engage further with the whole of the Greek Life Community, rather than my chapter alone."
Liddicoat won the Outstanding Senior in Fraternity Life award and his chapter received Fraternity Chapter of The Year.
"For the award of Outstanding Senior, I felt that winning it meant my efforts had been properly recognized," Liddicoat said. "Serving as a fraternity president can sometimes be a thankless task, as most of its duties are not seen by those within the chapter. This award meant that those sleepless nights, stressful meetings, etc. were all worth it."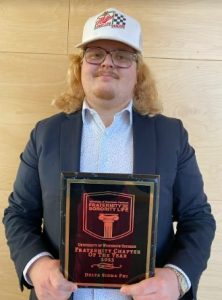 He said his chapter faced a number of difficult circumstances during his presidency, but as a united chapter, they were able to move forward toward a brighter future.
"As for Chapter of The Year, I found that to be more a reflection of the combined efforts made by my fellow brothers," Liddicoat said. "I am thankful that our brotherhood was able to receive such an honor."
Liddicoat said the biggest thing he's taking away from Greek Life is the immense sense of brotherhood he found within his chapter. 
"I have developed friendships with a number of guys that I know will be a part of my life forever," Liddicoat said. "That alone is enough to take away and is far more important to me than any leadership opportunities I may have received. I am thankful for such opportunities, but the bonds amongst my brothers is what I value most as I move on from UWO."
Fourth-year Gamma Phi Beta member Sam Sasin said she's feeling nostalgic after the Greek Awards.
"I truly had no idea what I was getting myself into when I first joined," Sasin said. "No one in my family had ever been involved in Greek Life so it was a whole new world to me."
Sasin served as education vice president in 2020, chapter president in 2021 and was the vice president of recruitment and retention on the Panhellenic Council in 2022. She won the Founders Award and the Outstanding Senior in Sorority Life award.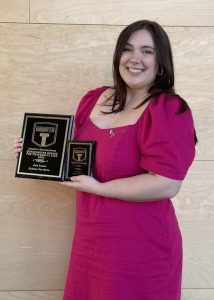 "These awards mean everything to me," Sasin said. "I like to challenge myself and taking on an entirely new leadership role after serving as my chapter's president is extremely difficult and is hardly ever done. I was determined to stay involved even as a senior and these awards are something I earned through all that hard work and dedication."
She said she is thankful for all the leadership experiences and relationships she made by being a member of Gamma Phi. 
"I was lucky to meet some amazing women in my sorority early on who have become some of my best friends," Sasin said. "They really inspired me to push myself because they told me that they believed in my potential to do great things. I have those sisters to thank for where I am today."
Both Liddicoat and Sasin encourage students to join Greek Life and see for themselves what it's all about. Fill out the Greek Life interest form here: https://tinyurl.com/UWOFSLInterestForm.
Other award winners included:
Amitai Wheat, Alpha Phi Alpha

Guillermo Pernia, Delta Sigma Phi

Kailey Cohen, Zeta Tau Alpha

Mark Putzer, Omega Delta Phi

Yingyakia Vang, Gamma Alpha Omega
Outstanding Greek Scholar
Emelia Smith, Zeta Tau Alpha
Greek Philanthropist of the Year
Alissa Wade, Zeta Tau Alpha
Outstanding Recruitment Counselor
Raeann Hefter, Alpha Xi Delta
Emerging Fraternity Member of the Year
Jonah Gagnon, Beta Theta Pi
Fraternity Member of the Year
Grant Steffen, Beta Theta Pi
Emerging Sorority Member of the Year
Elyssa Belling, Zeta Tau Alpha
Sorority Member of the Year
Mattie Beck, Zeta Tau Alpha
Staff Advisor of the Year
Tyler Volkert, Beta Theta Pi
Alumni Advisor of the Year
Kim Katz, Sigma Sigma Sigma
Highest GPA Spring 2022 – Omega Delta Phi (Fraternity), Zeta Tau Alpha (Sorority)

Highest GPA Fall 2022 – Alpha Phi Alpha (Fraternity), Sigma Sigma Sigma (Sorority)

Most Improved Fall 21 to Spring 22 – Sigma Sigma Sigma

Most Improved Spring 22 to Fall 22 – Sigma Pi
Chapter Achievement Awards
Outstanding New Member Program – Zeta Tau Alpha

Outstanding Social Media Presence – Zeta Tau Alpha

Outstanding Philanthropic Program – Zeta Tau Alpha

Outstanding Inclusive Excellence Program – Gamma Phi Beta 
Chancellor's Award for Greek Excellence
Excellence in Leadership Development – Zeta Tau Alpha, Alpha Xi Delta

Excellence in Brotherhood/Sisterhood – Gamma Phi Beta, Sigma Pi

Excellence in Civic Engagement – Zeta Tau Alpha, Delta Sigma Phi

Excellence in Scholarship – Sigma Pi, Sigma Sigma Sigma

Excellence in Greek Unity – Delta Sigma Phi
Sorority Chapter of the Year