'Keep our jobs here, keep our people near'
UWO rallies around possible outsourcing of 100 custodial, grounds and maintenance jobs
"Hey hey, ho ho. Keep the jobs at UWO" was heard throughout the streets of UW Oshkosh during a protest Tuesday afternoon meant to keep the jobs of custodial, grounds and maintenance crews safe from outsourcing.
"What is the problem with transparency?" said Bob Knudsen, a member of UWO's custodial staff at Halsey Science Center. "I do believe that the UWO administration is definitely seeing us right now. We're not done yet."
Chancellor Andrew Leavitt is considering outsourcing the grounds and custodial work of the university to a private company out of Tennessee called SSC.
"What's sustainable about outsourcing jobs of people who work with us, who are part of this university and part of our community?" History Department Lecturer Jeff Pickron said. "We have to stand with them. It hurts us when they're hurt. This may not end today, but we're in it for the long haul."
The university released minimal information about the possible outsourcing a week ago. However, those hired by SSC would no longer have access to the Wisconsin Retirement System, lose state health benefits and more.
"I'm proud to stand here with you for fair wages, fair taxes and fair benefits that you earn," Oshkosh Mayor Lori Palmeri said. "I hope you get the opportunity to sit down and have some conversations about these benefits that are so difficult to get and easy to lose."
After a virtual employee forum on Aug. 25 with Leavitt, Vice Chancellor for University Affairs Bob Roberts and other upper administrators, employees were told the decision on outsourcing will take place mid September.
"We were not given any real information besides what a great company SSC is and how the chancellor cares so much about us," said a worker who asked to remain anonymous.
Professor of Political Science David Siemers said he supports his coworkers.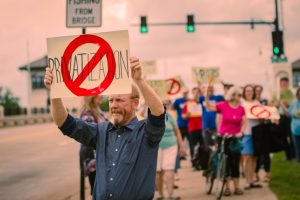 "It doesn't begin and end with people's jobs ending," Siemers said. "We're one community today supporting each other."
The protest began on Wisconsin Avenue and Pearl Street near the Culver Family Welcome Center about 1 p.m. The group then walked to Reeve Union, Dempsey Hall, Sage Hall and eventually back to the Culver Family Welcome Center. The protest went through Titan Fest, an event where students are encouraged to explore the organizations campus has to offer.
Cars honked, people cheered and students became more aware of what was going on, Knudsen said.
"I'd like to thank all the student support that we've seen today," Knudsen said. "Having people holler out of dorm windows at me asking what's going on and a few minutes later running down wanting to sign the petition was fantastic. That made it feel like this was worthwhile."
The consensus from the group petitioning is that people are not aware of the outsourcing proposal.
"I think a lot of people don't know about this," said Gregory Peter, associate professor of sociology at the Fox Cities campus. "The decision that we heard is that this has already been decided without faculty input, employee input or student input. If it was your job, you'd be very upset."
It is important to look at other options, said Knudsen.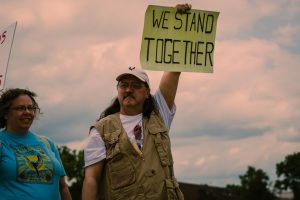 "The alternative is to be serious about recruitment and retention by being competitive with what is in the area," Knudsen said. "The starting wage of $15 an hour for custodians can be earned at McDonald's working overnight."
Jon Shelton, professor of democracy and justice studies at UW-Green Bay and vice president of Higher Education of the American Federation of Teachers-Wisconsin, said outsourcing has occurred before.
"We know this doesn't save money and we know it doesn't improve the quality of services on our campuses," Shelton said.
In April of this year, UW-River Falls faced the same situation. Thanks to petitions, sponsored by a task force, and the spread of awareness, custodial and grounds crews were able to retain their university positions.
Multiple online petitions for UWO have started going around. A petition sponsored by AFT-Wisconsin says: "If janitorial and grounds are privatized, who is next? This decision would deeply unsettle our community."
Michelle Kuhl, professor of history, said the UWO campuses rely on these crews and we need to treat them as the professionals they are.
"We need careers, not dead-end jobs," Kuhl said. "If we have trouble hiring people, how is another company going to hire them? This is a problem across the nation, not specific to us. I don't think outsourcing is the answer."
Another petition on Change.org has over a dozen comments from workers on all the Oshkosh campuses who have been working anywhere from one to 30 years here. The consensus is: people want to retain their state jobs.
"I have dedicated 20 years of my life to this job," Anne Armstrong said. "I want to retire a state of Wisconsin employee."
University employees outside of custodial and grounds crews also expressed their concerns through the petition pages.
"Outsourcing unioned state employee positions is wrong," said Academic Department Associate Kristina Mosley. "If there's money for athletics and a new marching band, you can pay your existing workers to clean your toilets."
With Labor Day earlier this week, Shelton said we need to reflect on those who put these jobs in place before us.
"Labor Day is the day that we stand on the backs of all of the people who came before us to organize for good jobs, and in our state, those jobs connect with the promise of public education and the Wisconsin idea," Shelton said. "All of those things are undermined if this outsourcing program goes through."
Misty McPhee, an associate professor of environmental studies and biology, said not only are jobs at stake, but so is the physical appearance of our university.
"The difference between a mowed space and garden space is what it does for us," McPhee said. "We are fairly certain if this outsourcing project goes through, all of these beautiful gardens are going to become lawn."
The university gave few remarks in response to the protest.
"We have not yet entered into contract negotiations with the company," Roberts said. "Should we move forward, employees have been informed they would be offered a job with the new company, their salaries would increase with this company and they would receive a sign-on bonus. Each impacted employee would meet with the new company to determine salary and benefit packages."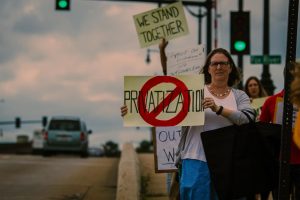 Shelton said we must stand together and make sure everybody on this campus understands the stakes of this.
"We have to treat every worker on this campus with the utmost dignity and ensure their long-term job security," Shelton said. "Let's stand together and kill the plan."
Family members, co-workers and supporters from all over Wisconsin who came to the protest continue to raise their voices until their message is loud and clear.
"Why are you coming to us so late in the game?" Knudsen said. "What needs to be hidden? Delay it and open it up. Talk to us. Andy, I'm in Halsey, second floor, 10 p.m. to 6 a.m., come on by."