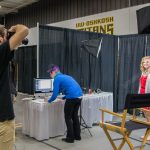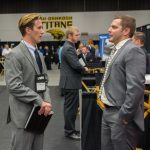 More than 100 businesses attended the Career Fair on the Fox on Monday, offering students the chance to network in their fields of interest.
Career Services Adviser Alicia Stuedemann said the Career Fair offers students the chance to connect with businesses and learn about companies straight from the source.
"The Career Fair provides good networking opportunities," Stuedemann said. "Also, students that aren't looking for full time jobs get the chance to build relationships with businesses, practice their elevator pitches and ask questions they might not get the chance to ask."
UW Oshkosh junior Matthew Malczewski said he hopes to gain experience by seeing a company run from an insider's point of view.
"I just want to get my feet wet in the different areas of the [human resources] world and see how a company works from the inside and get that perspective and carry it with me and help build my character and my resume," Malczewski said.
Malczewski said the businesses were helpful in pointing students in the right direction.
"There [was] a good variety of employers here, and they are all student-oriented and student directed," Malczewski said. "They know somewhat what we're looking for, and they'll be able to let us know how that matched up with what they are looking for."
Stuedemann said she believes the businesses benefit from the Career Fair just as much as the students.
"The businesses get to make the same connections the students do," Stuedemann said. "They are also networking and looking for potential opportunities out of students."
Andrew Severson of the Information Technology Leadership Program at General Electric Co. said people who get involved with his company's training program get opportunities to help elevate their career.
"You get training, experience, you get to travel, you get exposure to executives, you get to learn leadership and really become a more confident person overall," Severson said. "That is why this is a great program, and people should definitely be looking into it."
UWO graduate and Career Services intern Seng Taho said most people get jobs from an inside connection, and that could potentially be made at the Career Fair.
"Seventy percent of job positions are obtained based on who [people] know," Taho said. "This [Career Fair] helps [people] build those connections."
Stuedemann said the real-life interactions at the Career Fair puts students who attend it above their competition.
"With online applications, you don't get to stand out from the crowd," Stuedemann said. "At the Career Fair students get to make face-to-face connections, and employers will remember them over online [applicants]."
UWO sophomore Jared Schadrie said he was looking to build connections and hoped to find an internship at the fair.
"I'm looking for different opportunities for internships in the summer," Schadrie said. "I'm not sure if I want to do an internship that promotes my management skills or my marketing or sales skills."
Schadrie said the Career Fair helps students prepare for a career after they graduate.
"It's a lot better to get employed before you get out of college," Schadrie said. "You can't get a degree and then hope a job lands on your lap, you actually have to earn it first."