Author discusses Pagan history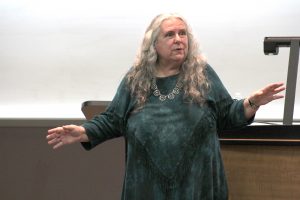 The Pagan Student Alliance hosted local Pagan leader and author Selena Fox for a discussion on the beliefs and the history of the Pagan faith on Thursday, March 16.
Fox said her goal when visiting campuses is not only to help connect fellow Pagans to resources and information, but also to educate others on the faith.
"Paganism consists of people who have connected with nature in many different ways across the world," Fox said. "We do talks to clear away misunderstanding and preexisting beliefs."
Fox graduated from the University of Wisconsin Madison in 1955 with a Master of Science in counseling, and said this is why she enjoys visiting UW schools.
Fox is the author of "The Circle Guide to Pagan Resources," a directory to hundreds of Pagan resources and groups in the U.S., Canada and other countries. She also hosts an online podcast called "Nature Folk."
Fox said she works tirelessly to show people what Paganism really is and to eliminate old beliefs about it.
"I've been on a quest to eliminate prejudice for a long time," Fox said. "It's important to interact and talk to those who haven't experienced Paganism before."
Fox said the impact Paganism has had on western culture is clear through symbolism, architecture and other traditions we see every day.
"I see Paganism as a unison of new and old beliefs coming together," Fox said. "I'm hoping by sharing our tradition, we help eliminate [misunderstandings], and educate on our beliefs."
PSA Oshkosh Student Association representative Tyler Hahn said discussing their beliefs on campus is meaningful to Pagan students' identities.
"It's very important for the Pagans on this campus to have events like this so that they find a place to belong, and for them to be represented," Hahn said.
Hahn said events like this are necessary to inform fellow students of a diverse group on campus.
"These things need to happen on this campus for visibility, for those who may not even know Paganism exists," Hahn said. "Many people who think about witches or Pagans or any of that sphere believe it's just myth or fairytale."
PSA President Devin Matznick said having a unique group on campus is very important.
"It's important for events like this to be organized because diversity is what keeps our campus and community strong." Matznick said.
Matznick said as a tinier group, they are always trying to educate around campus.
"We're smaller, we have less people behind us, less energy by pure numbers." Matznick said. "So events like this are just important for getting us out there and letting people know that there's more to our campus."
Hahn said non-Pagan fellow students are always welcome to attend any meetings or other events held by PSA.
"Events like these help members of our community realize that we are real people, we have strong beliefs and we want to be part of the community as a whole," Hahn said.
"That's why when Pagan Student Alliance has these events they are always open to the public, so that whoever comes can find a place to belong or to learn and grow."