Power of ID aims to increase diversity in PR
UW Oshkosh students are competing in a national competition with a campaign focusing on the power of inclusion and diversity in public relations and related fields.
Five PR students implemented the Power of ID campaign in November for their class through the journalism department.
UWO student Taylore Radtke, who is in charge of the creative elements/design for the campaign, said she thinks it is important to bring attention to diversity.
"The main goal of our campaign is to raise awareness about diversity and inclusion in the public relations and related fields, so communications, marketing, interactive web management, pretty much anything that has to do with journalism," Radtke said.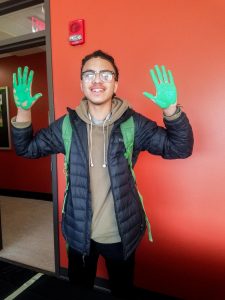 Radio/TV/film major Matilda Cretens, who is in charge of multimedia for the campaign, said the team was struggling to find a name for their campaign but realized the answer was much simpler than they thought.
"We were trying to think about unique ways to use the words 'Inclusion' and 'Diversity' because that's the main focus of what we're trying to do," Cretens said. "So we had things all written up on the board and we're just looking at it and I was like 'I' and 'D.' 'I and D' to stand for Inclusion and Diversity and then we also kind of merged it into who you are as your ID."
The student in charge of social media for the team, Taylor Mueller, said they are focusing their campaign on students, because they will be in the workforce soon, and educators, because students think there is a lack of learning about diversity in the classroom.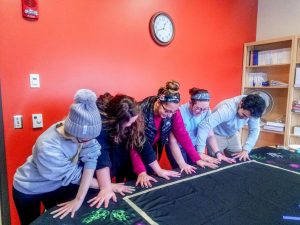 "There's a disconnect there, so we want to give out these resources and make resources for professors and educators to use in order to really clearly show their students this is about diversity," Mueller said.
Radtke said the team received this campaign through the Public Relations Society of America Foundation and explained how the Bateman competition is different every year.
"Each year PRSA gives a topic or a client that we work with, so some years it's been childhood cancer; it's been suicide prevention; it's been veterans," Radtke said. "They just choose a different client that they feel like the public can benefit from having awareness of or that they find that there's an issue within it."
PR major Brianna Colebourne, who is in charge of events and community outreach, said their event "Leave Your Print" had students leaving their handprints on a poster to symbolize the diversity in the department.
"You're leaving your print and [saying] that you support diversity within the PR and related fields and that you understand that it's a problem and you're aware of what we're doing and you want to contribute," Colebourne said.
Colebourne said their next event will be a Society of Professional Journalism movie night where they will be watching "City of God."
"We are going to partner with SPJ and we'll have pizza and popcorn and we'll talk about the diversity and inclusion within that movie," she said.
Mueller said the national competition they are a part of was very competitive to get into and that it took a lot of work getting to where they are now.
"Bateman is a national competition and only five students are allowed to be part of the competition from each school," Mueller said. "You have a specific client that you're working for and you have to do an entire campaign, which includes online research, implementation and planning and evaluation."
Radtke said the Power of ID campaign interests her a lot since she is in the PR field and wants her peers to know about this issue.
"All of us are within the PR and related fields, and I think moving forward when I'm going to be in the real world and be a professional in this atmosphere, I think that we need to be aware that there is this issue," Radtke said.
Cretens said this campaign will help others in the future by showing people what diversity is really about.
"It doesn't need to be about the color of your skin or anything like that, it's about what you have to offer and bring to the table," Radtke said."