'Justice is not just Chauvin's conviction, justice would be George Floyd being alive'
Following former Minneapolis officer Derek Chauvin's guilty verdict in George Floyd's murder, local leaders and organizations rejoiced over accountability being delivered for Floyd's death, but acknowledged the need for police reform to address systemic racism.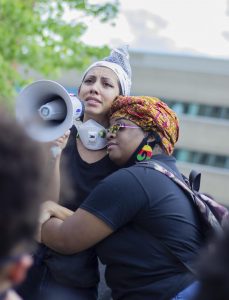 Chauvin, who last May held a knee down on George Floyd's neck for more than nine minutes, was found guilty of second-degree unintentional murder, third-degree murder and second-degree manslaughter on Tuesday.
"To many, the verdict delivers justice," UW Oshkosh chancellor Andrew Leavitt said. "Yet we know it does not change the fact that systemic racism exists in our country, our communities and even this institution."
Leavitt said the community and university needs to work on addressing and fighting the racism around us every day.
"Dismissing acts of racism is a form of violence and hurts some in our community by traumatizing and reminding us of hate and bias unseen and unaddressed," he said.
Oshkosh's state assembly representative Gordon Hintz said he was encouraged that the jury found Chauvin guilty, but it doesn't change the fact that Floyd should be alive today.
"It does not erase the loss for those who knew him and the trauma for those for whom his death hits close to home," he said.
Hintz said local government leaders need to work to reform the systems that perpetuate violence against people of color.
"These problems have not gone away, and leaders at all levels have a duty to respond," he said.
Citizen Action of Wisconsin (CAW), a nonprofit organization that works to achieve social, racial, economic and environmental justice, praised Chauvin's guilty verdict.
CAW's executive director Robert Kraig said in a statement that this verdict should only be the start of police reform.
"The downside is that the verdict required singling out one police officer while giving cover to the police department in Minneapolis for the responsibility of a structurally racist system that does not truly respect Black life," he said.
Kraig said we must start unwinding the current systems of policing and mass incarceration and replace it with a system that promotes safety for Black and Brown communities.
"This verdict does not change what we know to be true: the deadly official violence aimed at Black people in America will not end until we uproot the whole system," he said.
Kraig said Floyd would not have had to fight for his life after being accused of a petty crime if police departments weren't being over-funded and Black and Brown communities weren't being over-policed.
"But we also know that justice is not just Chauvin's conviction, justice would be George Floyd being alive," he said.