UWO back in 'the green'
For the last few years, UW Oshkosh spent more than it gained in revenue. But the university is "back in the green," despite the challenging financial times created by the pandemic.
"UWO is in a positive financial position and is able to invest in university initiatives, such as student support, enrollment management, IT, inclusive excellence and grounds maintenance while reestablishing a financial reserve," said James Fletcher, UWO vice chancellor for finance and administration.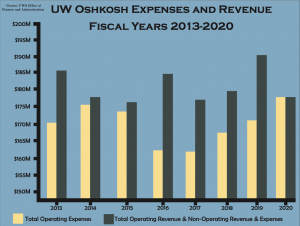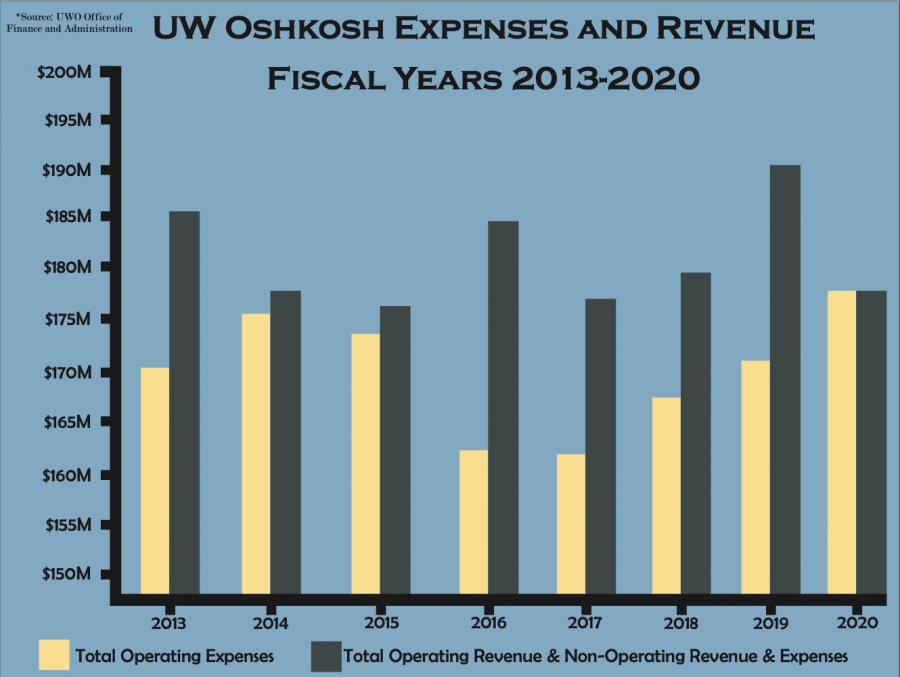 UWO went "in the red" in fiscal year 2017, due primarily to declining enrollment and rising costs, Fletcher said. In response, he said the university initiated a plan for fiscal years 2018-20 that targeted budget reductions, aligned the tuition target with enrollment forecast, created a mandatory review process for all vacant positions and offered a Voluntary Retirement Incentive Option Program (VRIOP).
The new budget plan was initiated in fall of 2018 to reduce the deficit.
The VRIOP went into effect in 2019-20, and allowed UWO active employees who were at least 55 years old, were .75 FTE (full time equivalent) and had five years of Wisconsin Retirement System Programs to retire early. In the 2020 calendar year, 78 UWO employees retired utilizing the VRIOP, Fletcher said.
Then, in April 2020, Chancellor Andrew Leavitt said he was furloughing employees due to the fallout from COVID-19. Furlough refers to a temporary leave of absence.
The financial changes decreased budgeted expenditures by $8.2 million and re-aligned the tuition target by $6 million, while also reducing staff costs by $4 million due to VRIOP. Those changes moved UWO from a negative to a positive budget position, allowing the university to become financially stable through the pandemic, Fletcher said.
Fletcher said the university developed and implemented a new cash flow model at the beginning of the pandemic, allowing expenses to equal the expected revenue from the enrollment forecast. The model also included a cash buffer to adjust forecast accuracy and used real-time data to guide decisions.
The changes increased UWO's Composite Financial Index (CFI), a standard approach to assess the financial health of colleges and universities that was developed by the National Association of College and University Business Officers.
"Increasing UWO's CFI score is an indicator of improved financial health and performance," Fletcher said.
Post-pandemic plans include investments that increase the number of student transfers from access campuses to the Oshkosh campus, launching a marching band and expanding diversity, equity and inclusion through the Titan Advantage Program (TAP) and Project Success.
TAP is a program to help first-year students successfully transition into college life. Project Success is a remedial program for students with dyslexia and other language-based learning disabilities.
The Project Success program and TAP have a planned cost of $388,757 to be spent in fiscal year 2022.
"UWO is consistently in the top half of UW System institutions for transfer applications, admissions and enrollments," said Aggie Hanni, assistant vice chancellor for enrollment management.
Excluding CAPP students, the final headcount of the Oshkosh campus was 9,190 full-time students as of June 30, 2021, which was down 571 students, or 5.85%, from June 2020.
Full-Time equivalent employment on the UWO campus is up 6.56% or nearly 84 people to 1,354 as of May 2021.
Total revenues for fiscal year 2021 are more than $204 million with expenses coming in at nearly $192 million, giving the university an adjusted total income of nearly $10.5 million. About 75.6% of UWO program revenues come from tuition, according to a report on program revenue balances distributed during an October Board of Regents meeting at UWO.
Fletcher said COVID-19 relief did provide pandemic expense reimbursement and helped make up for lost revenue.
"The federal COVID-19 relief awards total $16.5 million for students and $21.8 million for the university," he said.
Other top fiscal year 2021 program revenue balances with obligated and planned funds include $1.8 million for the Titan National Scholar scholarships and $1.3 million for Algoma Boulevard improvements. The estimated tuition shortfall coverage in fiscal year 22 is $7.8 million.
UW System finances have been in the news for years, when in 2013 Republican state legislators attacked the system after a Legislative Fiscal Bureau memo showed there was $648 million in cash reserves among all state universities. Most of the cash reserves came from unspent tuition, leading to further tuition freezes.
A freeze on undergraduate tuition lasted for eight years until it was lifted in the current state budget.
According to Urban Milwaukee, "The UW System and its campuses also had to spend down their reserves in the years following 2013 to make up for the freeze, as well as a $250 million cut to state funding for state universities in the 2015-17 state budget."
Lawmakers concerned with the level of reserve funds prompted the UW System to set 12% of expenses as the maximum threshold for how much money each UW college should keep in reserve. Schools above 12%, like UWO had to make a plan on how to reduce reserves, submit justifications, categorizations and multi-year plans for fund balances of tuition, auxiliary operations and general operations.
"Strategic management of university resources remains a top priority," Fletcher said. "Maintaining our stable financial position will require routine, diligent review of financial data, adherence to our budgets, and reliance on forecasting tools to keep UWO financially healthy."