'Hug the people you love a little tighter'
Waukesha parade victim's granddaughter remembers her best friend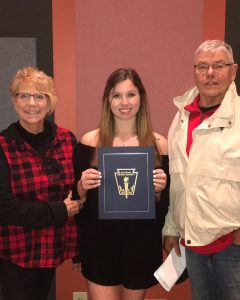 Virigina Sorenson was holding a Milwaukee dancing group's banner in the Waukesha Christmas Parade when a man driving a SUV came barreling through the parade, killing her and five others and injuring dozens of participants and bystanders.
"I felt a lot of anger, anger that someone would do this, let alone to someone as good and pure as my grandma," said granddaughter Gabrielle Kamentz, a junior at UW Oshkosh. "I never got to say goodbye. She was my best friend."
Darrell Brooks Jr. is accused of driving his SUV through the crowded streets on what was supposed to be a festive holiday night and killing Kamentz's grandmother, 79-year-old Virginia "Ginny" Sorenson, 52-year-old Tamara Durand, 81-year-old Wilhelm Hospel, 71-year-old LeAnna "Lee" Owen, 52-year-old Jane Kulich and 8-year-old Jackson Sparks.
Sorenson was holding the banner for the "Milwaukee Dancing Grannies," a group she was a member of for 19 years. Originally, Kamentz was supposed to hold the banner, but the morning of the parade, she woke up in excruciating pain, to the point where it hurt to walk.
"My grandma said, 'Don't worry, we have backup,'" Kamentz said. "I didn't know she was the backup. I was supposed to be the one that was hit technically, not her."
Kamentz is majoring in nursing at UWO and is following in her grandma's footsteps. Sorenson was a registered nurse and graduated from the Milwaukee School of Nursing.
"I wish I could've told my grandma that I was accepted into nursing school," Kametz said. "I'll become the best nurse possible in her honor. I know that's what she would want for me."
The community of Waukesha has come together to celebrate the lives of lost loved ones. The memorial at Veterans Park continues to grow with flowers, stuffed animals, lights, crosses, letters, candles and more.
"I'm so glad I live in a community with all this support," Kamentz said. "It's nice having people who care."
A GoFundMe page was started for Sorenson's memorial, which raised more than $20,000 for the funeral and memorial arrangements. Leftover funds were passed on to her husband, David Sorenson, to "support him in the difficult times ahead."
"She didn't have a bad bone in her body," her husband told the Milwaukee Journal Sentinel. "She loved her grandchildren."
The memorial service for Soreson was held at Hales Corners Lutheran Church on Dec. 4.
Kamentz has a tattoo and a cross necklace made from Sorenson's ashes to honor her grandma and keep her close to her heart.
"I want people to take away the fact that life really is short," Kamentz said. "As cliche as it sounds, you really don't know when your last day with someone is. Hug the people you love a little tighter next time you see them. Tell them you love them … every single day."