UWO ceramics students 'gauge the success of their work' by creating pieces for new downtown shop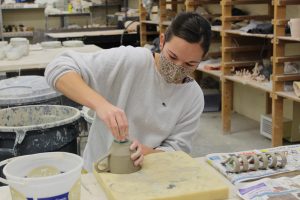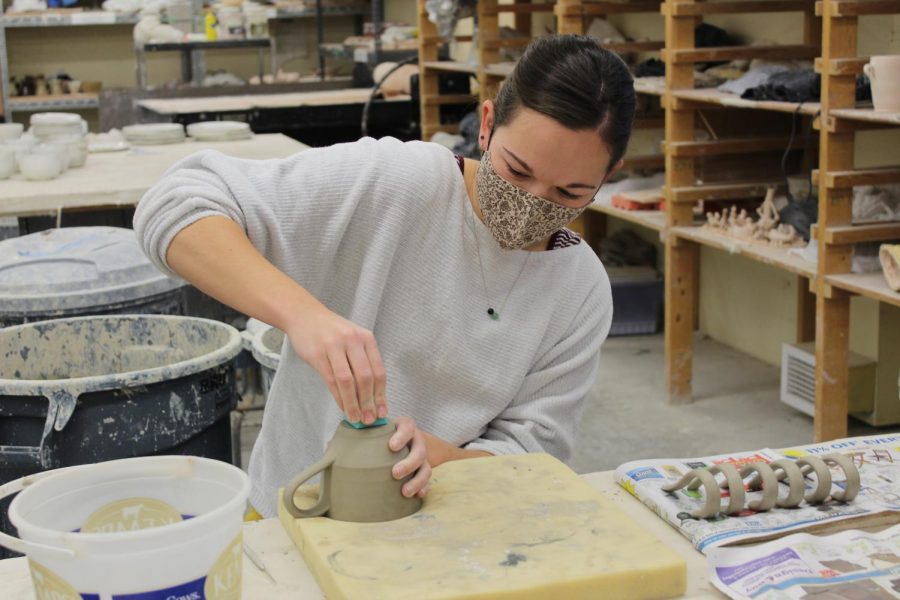 As an artist, often your biggest goal is to market and sell your art. Having the reassurance that others like what you are producing is a huge form of validation. For a few UW Oshkosh students, this validation is happening thanks to a few downtown businesspeople.
"I was definitely a self-proclaimed artist from very little on," ceramics student Emma Hathorne said. "I've been doing pottery since 2016. Art has been a part of my life and my parents' lives; it's kind of a family thing."
Walking into the ceramics lab for the first time, it is different from what one might expect. Somehow spacious, yet crammed, the lab screams "artists work here." Clay dust covers the floor from hundreds or maybe thousands of pottery pieces. Shelves around the room and in the back are lined with multitudes of pieces.
"[The lab] is pretty much my little safe haven on campus," Hathorne said. "What's really cool about this space is that you have a community. If I was working at home in my studio, I'd be alone, where here I have people to bounce ideas off of. That's probably the biggest thing that I'm going to miss when I graduate … having the community of artists that school gives you."
Hathorne and three other UWO students have been commissioned by The Elsewhere Collection to create mugs, salad plates, dinner plates, bowls, serving bowls, vases and more. Hathorne is in charge of mugs.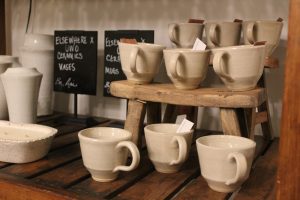 She has prior experience in commission work. Her aunt and uncle who own Inn at the River in Wausau commissioned her to produce mugs for their business.
"That got me some experience with low pressure because I knew the client," she said. "When [working with the business downtown] came along, I said 'Sweet, I guess this is the next step.'"
The Elsewhere Collection was founded by Kristen and Eric Hoopman. The pair are big travelers and into real estate and renovating historic properties and beautiful old homes. They own several Airbnb properties including two in Wisconsin, Oshkosh and Waupaca; two in Georgia, Savannah and Tybee Island and one in Great Barrington, Massachusetts.
According to the Elsewhere website, "Elsewhere is a state of being. It's a feeling of being thousands of miles away without having to journey that far. Elsewhere is an invitation to slow down, realign, explore — to just be."
When vacationers stay at one of the Hoopman's Airbnbs, one of the things that most people take away is how beautifully designed and curated the homes are.
Kristen Hoopman is not only an owner of the properties, but is also the designer. It has always been one of her goals to open a retail shop that highlighted the Airbnbs in the way they design them. When she thought about opening a retail space, she wanted it to reflect those properties.
Managing Director Jessie Tadder and Event and Marketing Director Kristin Kane both work under the Hoopmans at The Elsewhere Collection. Both are also UWO journalism alumnae.
"Every single light fixture, every single piece of furniture, everything you see in any of the properties, including the Gibson Social Club, was designed and curated by Kristen," Kane said. "With no formal interior design training, she is the one that makes the spaces as beautiful as they are."
The Gibson Social Club is the neighboring building to The Elsewhere Market & Coffee House, also owned by the Hoopmans.
Tadder said Elsewhere wanted to source as many local items as possible to support and help Oshkosh grow. Having UWO students contribute to the shop by crafting ceramic pieces made the most sense. They heard from another shop owner about the ceramics lab at UWO and reached out to Associate Arts Professor Craig Clifford.
"The goal of an artist is to have their work out in the world, and this gives the students that chance," Clifford said. "We have ceramic sales every semester, but it's different to have their art in a professional store. Being in the store exposes their work to a larger audience and gives the students a different way to gauge the success of their work."
Clifford, after meeting with Tadder and Kane, introduced them to a few students he thought might be able to help with the shop.
Tadder and Kane worked directly with the students who showed them examples of what they have produced in the past. Since Hathorne had prior experience doing mugs, including stamping logos on her work, they started with her. They liked the style of her mugs and asked for a white glaze to match the store's aesthetic.
After a few conversations back and forth on shapes, sizes and a sample mug, the deal was finalized. Hathorne made 25 mugs to sell at the market.
After seeing the style of what Tadder and Kane were looking for in the mugs, the other students were able to pick up on the style and start crafting their pieces.
Clay shrinks after it is glaze fired. This is typically the second firing of a piece of pottery that the glaze melts to form a glasslike coat. Hathorne did a summer research project to learn more about pottery and its processing.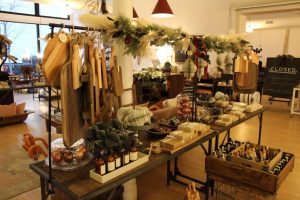 "There's three stages to a mug," Hathorne said. "You can calculate the rate of shrinkage of the clay. I know my clay shrinks 12%. Anything I make is going to be 12% smaller by the time it's fully glaze fired."
Every clay has a different shrinkage rate, and therefore it took a few times to get the perfect 10-ounce mug Elsewhere was looking for.
Looking around in The Elsewhere Market & Coffee House, the aesthetic Tadder and Kane mention in Kristen Hoopman's design work is evident. The UWO ceramics fit in perfectly.
The main goal of Elsewhere was for nothing to be too perfect. Everything is organic in shape, which is what makes the shop special.
"[Ceramics] are obviously never all exactly the same, but if they were, it wouldn't be handmade," Hathorne said. "The perfectionist in me has to take a backseat."
The grand opening of the market side was Dec. 3 with champagne and cookies. This opening was a part of First Fridays in downtown Oshkosh. This occurs the first Friday of each month, which is dedicated to "art, music and awesome dining and experiences downtown."
Kane estimated over a couple hundred people stopped in. Many customers were delighted to see the UWO ceramic pieces.
"It's a very good thing [Elsewhere is working with students] because the university is a big part of our community, so it's very nice to tie it together with some of the retails," customer Patty Francour said.
She also commented on the aesthetic that Elsewhere is hoping to achieve.
"This is the first time we're doing the First Friday walking around and obviously the first time we've been in here," Francour said. "It's a really cool feel. It does not feel like Oshkosh, maybe kind of like Door County."
The Coffee House is projected to open in early 2022. For the time being, the market will be open while Elsewhere is working with a consultant on their coffee and menu.
"We want to make the coffee right and make it worth coming to get a cup of black coffee that you could enjoy without cream," Tadder said. "However, we'll have all of the condiments to spice it up however anyone wants."
As far as food is concerned, the menu will be simple with mostly toasts and maybe salads, soups, pastries, bagels, grab-and-go options and more. They are tentatively planning on using Hathorne's mugs for serving coffee and tea in-house.
"We don't want to just open a coffee shop to open a coffee shop," Tadder said. "We want it to be an experience for people to really come in and hang out and kind of feel like they're in a different space that we don't really think Oshkosh has at this time."
Kristen Hoopman's mom, Sue Collins, is a part-time employee of the market. She loves how downtown is flourishing again.
"Main Street is filling up again; it's nice," Collins said. "We want students to be comfortable and come back and know that they're welcome."
The market and coffee house have been a long time coming. It is all finally becoming a reality since the market opened.
"I think for a lot of people, Main Street might feel intimidating because there are a lot of bars and that's great for some of the older students, but for those who either don't participate in bar culture, or maybe aren't of age yet, having a really special coffee house to relax, study, read, hang out with friends and bring their families to is going to be a really exciting thing for us to be able to share with UWO," Kane said. "I wish I had this when I was in school."
Elsewhere is just as passionate about working with UWO students as the students are to work with them.
"There's just something about making [pottery] that's going to be used, that's beautiful, unique and different, but is going to have a purpose," Hathorne said. "[This opportunity] really fell in my lap. I was quite lucky."